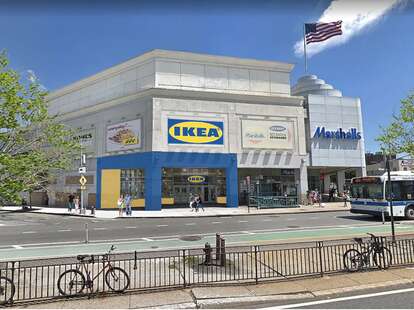 Ikea is like the Disneyland of furniture and meatballs. There's endless lamps and mock bedrooms to venture through, and plenty of places for a solid game of hide-and-seek (even though Ikea is pleading with people to stop doing that). You can envision your perfect home á la 500 Days of Summer or gorge out on the salmon with dill sauce.
But sometimes Ikea is like that Disneyland's Mr. Toad's Wild Ride -- especially the part where you're overwhelmed with things popping out at you and suddenly end up in hell (how is that a kid's ride, by the way?). It's a tangle of reasonably priced dressers that you can't seem to claw your way out of, and you keep passing the same display of odd shaped vegetable plushies that you thought you escaped five turns ago.
I guess Ikea has figured out that people don't necessarily enjoy feeling trapped in a maze of furniture, which is why the company is debuting a new concept store in 2020 -- one that won't be a long-winded snake through faux bathrooms and bedrooms. The store is set to open in Queens, New York, "with a new layout and will support a seamless omni-channel experience for customers," Ikea said in press release.
"We are passionate about life at home and energized by the opportunity to collaborate with New Yorkers to create a new experience that is both easy to access and shop," Javier Quiñones, president & chief sustainability officer of IKEA Retail US, said in a statement.
You'll still be able to find large pieces of furniture and get them shipped to you, but you won't have to consider what every room in your home needs while meandering about. Honestly, when I'm at Ikea, I'm mostly trying to rush through the web of furniture I don't need and head for the meatballs and dollar soft serve cones. The store will allegedly feature new food to try, too, which makes this new concept sound like a winning experience.
Sign up here for our daily Thrillist email and subscribe here for our YouTube channel to get your fix of the best in food/drink/fun.
Kat Thompson is a staff writer at Thrillist. Follow her on Twitter @katthompsonn.