Ikea Renamed Products After Problems They Solve and They're a Little Sad
Most people don't remember the names of Ikea furniture, even if they head to one every time they have a home issue to solve. Ikea is having a little fun with that in their new "Retail Therapy" campaign and website.
They've recreated their retail site and renamed products based on frequently Googled relationship problems that the products can potentially solve. It's funny and maybe strikes a little too close to home at times. Many of the new product names at the Retail Therapy site ring awfully true.
With product names like "My Family Doesn't Respect Me,""The Attraction Is Gone,""My Boyfriend Doesn't See Me," and "How Common Is the Name Billy," there's a tinge of sadness in many names. There's some truth to it all and it makes you realize some sad truths about furniture items in your home that could pretty easily take on names like "My Brother and I Don't Have Any Connection" or "I Don't Get Enough Me-Time."
Despite the campaign's occasionally blue hue, they're having a laugh with it. The promotional video ends by saying, "Whether it's a snoring husband, a never-ending gaming son or any other relationship problem you have, Ikea can come to the rescue ... or at least put a smile on your face while you keep Googling for an answer."
It's a funny campaign. However, by naming the products after frequently googled problems, it's also a pretty damn clever SEO play to help push their products to the top of search engines. When someone Googles "my son is afraid of the dark" the Ikea night light is going to start popping up.
The Retail Therapy site is fully functional, so if the "Get to Know Your Bonus Kids" appeals to you, you can toss it in the cart with the "My Partner Is Selfish" and place your order right there.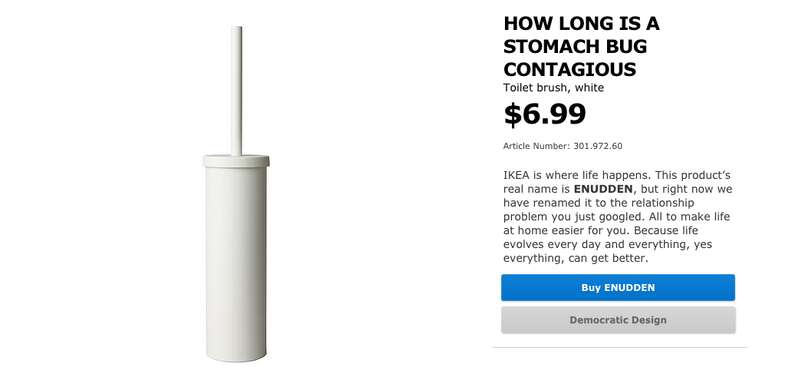 h/t Adweek
Sign up here for our daily Thrillist email, and get your fix of the best in food/drink/fun.
Dustin Nelson is a News Writer with Thrillist. He holds a Guinness World Record but has never met the fingernail lady. He's written for Sports Illustrated, Rolling Stone, Men's Journal, The Rumpus, and other digital wonderlands. Follow him @dlukenelson.