If you've ever walked into an IKEA for a few practical household items, only to leave with them and a half dozen candles, a pair of end table lamps, and nearly a zillion succulents, then you know damn well how useful the furniture store's oversized blue shopping totes are. Best of all they're only 99 cents. So, when a designer fashion brand was spotted selling a $2,150 version of the iconic bag, outrage among fans prompted the company to unleash a killer response. 
As a report by Mashable explains, the fashion brand Balenciaga has offered a leather designer bag that looks curiously -- if not strikingly -- similar to IKEA's popular FRAKTA carry-all shopping bag for a while now... and at a price that's likely more than all the money you've ever spent at IKEA. But it looks like the bizarre and almost comical example of an expensive thing made to look cheap has recently made the rounds on social media. 
Recommended Video
Ghost Kitchen: How This NYC Restaurant Is Responding to Coronavirus
IKEA, however, responded brilliantly by releasing a handy guide (shown below) to help you spot a real FRAKTA shopping bag, you know, instead of one of those knockoffs. "If it rustles, it's the real deal," the guide states, among other tips.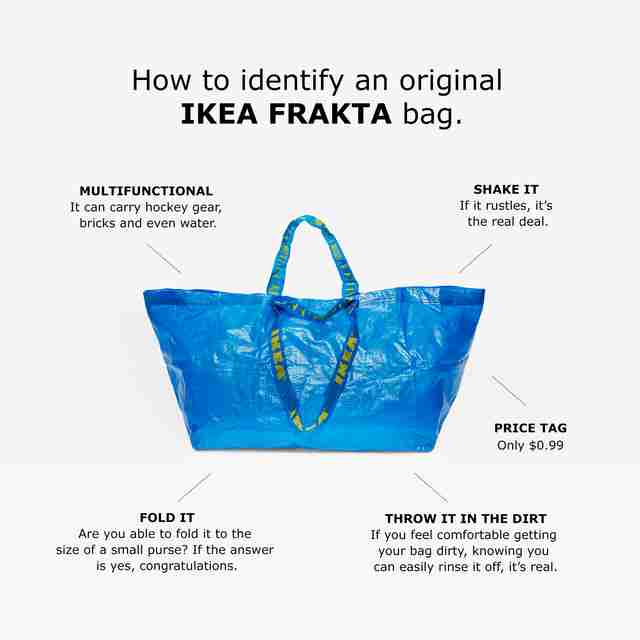 The frustrating furniture company also took a clever swipe at Balenciaga on its UK website homepage:
But that's not all. When reached via email this week, an IKEA spokesperson provided the following statement in response to the hardcore fashion version of its modest tote:
"We are deeply flattered that the Balenciaga tote bag resembles the Ikea iconic sustainable blue bag for 99 cents. Nothing beats the versatility of a great big blue bag!"
So far, it doesn't look like Balenciaga has responded to IKEA's snark, which is kind of shame considering how good the big brand wars have been on social media lately. All said, let's just hope people aren't stuffing sharp furniture parts and household products in their $2,150 tote bags out there. We're just going to stick with the 99-cent ones for that. 
Sign up here for our daily Thrillist email, and get your fix of the best in food/drink/fun.