Ikea Is Working on New Plant-Based Meatballs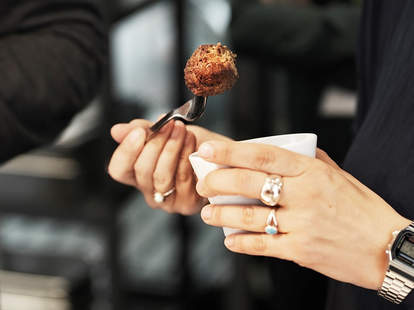 Walking through the maze that is Ikea is worth it when you know the end of the twists and turns results in a gravy-filled platter of Swedish meatballs. There's nothing quite like the springy meatballs paired with tart lingonberry jam and whipped potatoes. However, if you're a vegetarian, this is a joy you probably haven't been able to partake in -- until now.
Ikea is launching vegan plant-based meatballs in August, according to a report by Business Insider.
"We know that the Ikea meatballs are loved by the many people and for years the meatballs have been the most popular dish in our restaurants" Michael La Cour, the managing director of Ikea food services, said in a press release last year. "We see a growing demand from our customers to have access to more sustainable food options and we want to meet that need. Our ambition is to make healthier and more sustainable eating easy, desirable and affordable without compromising on taste and texture."
In addition to the vegetarian-friendly meatballs, Ikea has committed to offering more foods that are compatible with the Paris Agreement on addressing climate change.
"There is a need to transform the way we produce and consume food. More sustainable practices in the food industry and more sustainable dietary habits are essential to achieve the objectives of the Paris Agreement and to limit global warming to 1.5 degrees," Lena Pripp-Kovac, Ikea's chief sustainability officer, said in a statement.
Whether you're a vegetarian or not, having even more options of those spherical balls smothered in gravy is a win in my book.
Sign up here for our daily Thrillist email and subscribe here for our YouTube channel to get your fix of the best in food/drink/fun.
Kat Thompson is a staff writer at Thrillist. Follow her on Twitter @katthompsonn.