'Bleeding' Plant-Based Impossible Burgers Are Finally Hitting Grocery Stores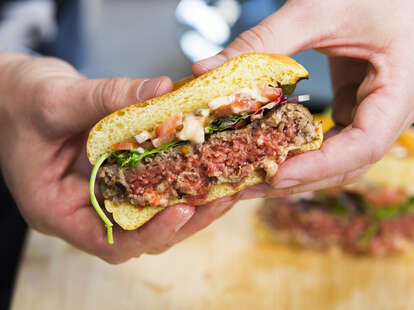 Courtesy of Impossible Foods
It's finally happening: Impossible Foods is slated to launch its signature meatless burger patties in grocery stores as early as next month. The plant-based meat company's move comes following long-awaited FDA approval on Wednesday for the use of a color additive in it soy and potato-protein burger patties, which are so meat-like that they appear to "bleed" like the real thing.
The government approval gives Impossible the opportunity to reach even more burger consumers after months of scrutiny due to shortages of the patties at high-end restaurants as well as fast food chains. The high demand pairs hand-in-hand with the way millennials eat: focusing more on sustainable and healthier options. Additionally, the "meat" just tastes good -- it could almost be mistaken for actual beef.
The fact that the company could not sell in grocery stores is something that set it apart from one of its main competitors, Beyond Foods, which has been providing plant-based meats in the meat aisle for years now. In addition to that, Impossible currently only makes their meatless patties, whereas Beyond Foods has launched burger patties, hot dogs, breakfast sausage, and is even testing bacon.
"Impossible Foods plans to launch the award-winning Impossible Burger in select retail outlets in September," the company said in a press release. "Additional details about this highly anticipated retail debut we [sic] be announced as the launch approaches. Stay tuned."
Beyond the grocery store news, Burger King also announced its partnership with Impossible Foods is going nationwide. The Impossible Whopper had previously been tested in select cities and will finally be available to order at almost every Burger King starting in the United States starting on August 8 -- but only for a limited time.
Now that Impossible is gearing up to launch the plant-based burger patties in stores, the heated debate about which 'meat' patty is better -- Beyond or Impossible -- will only continue to sizzle. The upside? Both carry the same mission of bettering the planet, and that's something we should all get behind.
Sign up here for our daily Thrillist email and subscribe here for our YouTube channel to get your fix of the best in food/drink/fun.
Kat Thompson is a staff writer at Thrillist. Follow her on Twitter @katthompsonn.