Impossible Foods Is Lowering Plant-Based Meat Prices by 20% in Grocery Stores
The company is "strongly encouraging" stores to act on the cost drop.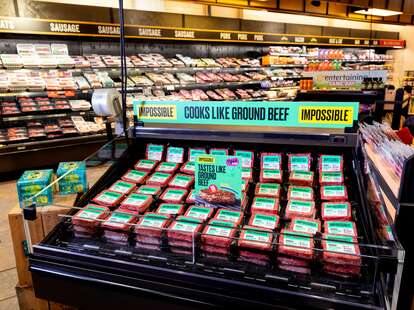 Plant-based product giant Impossible Foods announced Tuesday that it is lowering suggested retail prices by 20% in 17,000 US grocery stores. The move comes at a time the company says its sales are at an all time high.
Suggested retail prices is the operative phrase here, with the company writing in the announcement:
"Impossible Foods is strongly encouraging the roughly 17,000 grocery stores, supermarkets and retailers that sell Impossible Burger to pass the savings to consumers as soon as possible. Impossible Burger is available at Albertsons, Kroger, Publix, Safeway, Sprouts, Target, Trader Joe's, Walmart, Wegmans and many others, as well as online platforms including Amazon Fresh, Walmart.com, Kroger.com, Farmstead and Imperfect Foods."
Should retailers follow the company's guidance, 12-ounce packages of Impossible burger patties would fall from about $6.99 to about $5.49, depending on location. This is not Impossible's first cost reduction, and leadership promises more to come.
"Our plan is to reverse global warming and halt our planet's extinction crisis by making the food system sustainable. To do that, we need to make meat better in every way that matters to consumers—taste, nutrition, convenience, and affordability," CEO and Founder Dr. Patrick O. Brown said in the announcement. "With economies of scale, we intend to keep lowering prices until we undercut those of ground beef from cows. Today's price cut is merely our latest—not our last."
Sign up here for our daily Thrillist email and subscribe here for our YouTube channel to get your fix of the best in food/drink/fun.