Impossible Foods' New Plant-Based 'Pork' Tastes and Looks Like the Real Thing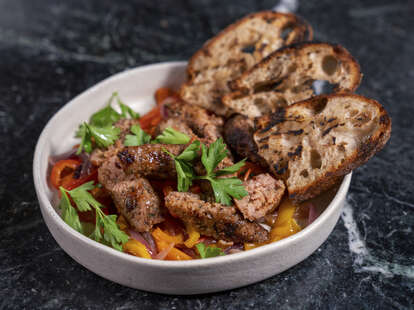 Courtesy of Impossible Foods
Impossible Foods turned the burger-eating world on its head (in a good way!), when it first debuted its Impossible Burger -- an entirely plant-based "meat" that tasted, and bled, like real beef. In addition to the obvious appeal among vegetarians, omnivorous eaters were intrigued by the prospect of reducing their reliance on animal products with an alternative that didn't feel too far off from the real deal.
For 2020, Impossible Foods is kicking the year off with its latest unbelievable "meat": Impossible pork and sausage. The company officially unveiled the new plant-based meat alternatives at the Consumer Electronic Show (CES) in Las Vegas on Tuesday, saying the Impossible Pork can be used in just about any recipe that calls for ground pork -- everything from stuffed vegetables to sausage links. Meanwhile, the pre-seasoned Impossible Sausage is designed to replace your typical breakfast sausage.
"Impossible Foods cracked meat's molecular code -- starting with ground beef, which is intrinsic to the American market. Now we're accelerating the expansion of our product portfolio to more of the world's favorite foods," said Impossible Foods' CEO and Founder Dr. Patrick O. Brown. "We won't stop until we eliminate the need for animals in the food chain and make the global food system sustainable."
It makes sense that Impossible is tackling pork; after all, it is one of the world's most consumed meats. But don't expect to find a panfried pork chop or glazed ham. Impossible's newest invention replicates ground pork, so it still resembles the same texture as Impossible's earliest, beefier launch. That being said, the possibilities are still limitless: the ground "pork" can be used in lasagna, dumplings, stir-fries, meatballs, and more.
The Impossible Sausage also comes in patty form, rather than as a sausage link, so ground meat texture remains. It is currently available to try in select Burger King locations in a handful of markets throughout the country, but if the success of the Impossible Whopper is any indication for the future, the Impossible Sausage Croissan'wich will make its way nationwide soon enough.
We're still waiting to see if Impossible Foods competitor Beyond Meat's bacon will be available this year, or if either of the companies will release a chicken alternative, but as of now it feels we've only scratched the surface of the possibilities of plant-based meats.
Sign up here for our daily Thrillist email and subscribe here for our YouTube channel to get your fix of the best in food/drink/fun.
Kat Thompson is a staff writer at Thrillist. Follow her on Twitter @katthompsonn.