In-N-Out Just Added Hot Cocoa Back to Its Menu After Decades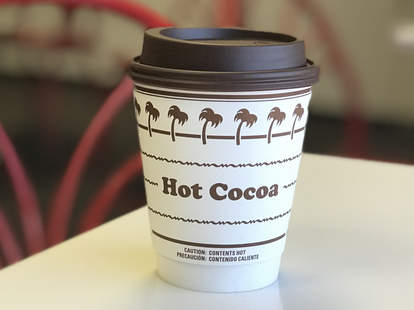 In-N-Out doesn't just drop new menu items to make headlines. The 70-year-old cult favorite tends to stick to what it does best: burgers, fries, and milkshakes. But a new menu item is finally here: It's a humble cup of hot cocoa. 
In-N-Out will be keeping the hot cocoa simple -- hot water, Ghiradelli chocolate, and freeze-dried marshmallows (available on the side) -- and cheap at just $1.65. The burger chain's last new menu item was lemonade, which was added around 15 years ago, so don't hold out for them to add anything wild like hot dogs anytime soon.
Courtesy of In-N-Out
"This is actually the return of hot cocoa," In-N-Out President Lynsi Snyder said in a statement. "My grandparents, Harry and Esther Snyder, served it for many years beginning in the '50s. I'm not sure how it fell off the menu but it's part of our culture and something special for kids, and I'm happy that we're bringing it back. For a certain generation, hot cocoa is an In-N-Out classic, and we hope it will be a favorite of a new generation."
The cold-weather comfort will be served year-round at all locations (which, unfortunately, doesn't include the snow-covered East Coast).
Sign up here for our daily Thrillist email and subscribe here for our YouTube channel to get your fix of the best in food/drink/fun.


James Chrisman is a News Writer at Thrillist who would appreciate it if In-N-Out were available near him. Send news tips to news@thrillist.com and follow him on Twitter @james_chrisman2.