Serious Fast Food Lovers Waited Up To Five Hours to Get Into an In-N-Out Pop Up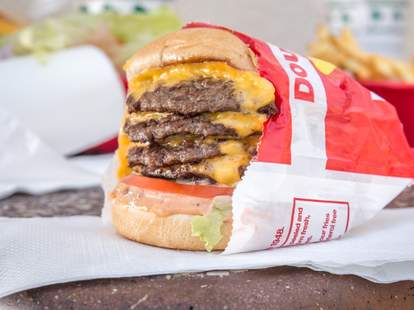 Dustin Downing | Thrillist Media Group
In-N-Out has a weird grip over people who don't live on the west coast of the United States (or, most people). The desire for burgers from the right coast's fast food favorite is so strong that a prank about the chain's arrival in New York was labeled one of the cruelest April Fool's Day jokes ever.
Even Londoners feel the draw to get their hands on that greasy 3x3. They proved it Wednesday when denizens of England's capital lined up for hours to get into an In-N-Out pop-up. People waited up to five hours for fast food, according to the Evening Standard.
The pop-up was announced in a small newspaper ad and was only open from 11am to 3pm. But that didn't stop people from starting to queue at 8am so that there were almost 300 people in line when they opened their doors.
The video above shows the blocks-long line around lunch time.
To make sure it was worth everyone's time, the pop-up handed out gold wristbands to everyone queued early to make sure they got their hands on some hard-to-find burgers. They reportedly ran out of wristbands around 12:20 pm, meaning people waited another couple hours to get burgers, but anyone arriving after that was left hanging.
Got to in n out burger pop up shop in London and they're all sold out :((( gonna have to go to California now

— Georgie (@GeorgieWaight) September 21, 2016
The last time In-N-Out did a pop-up in London was 2012. Some folks at the burger chain must feel a pressing need to take a vacation abroad during election years. Respect.
Irony of In n Out popup in London today - queue, queue, queue, queue, queue, queue, queue, queue, queue, queue, queue, queue, then in n out

— cwiss (@cwiss) September 21, 2016
Sign up here for our daily Thrillist email, and get your fix of the best in food/drink/fun.
Dustin Nelson is a News Writer with Thrillist. He holds a Guinness World Record, but has never met the fingernail lady. He's written for Sports Illustrated, Men's Journal, The Rumpus, and other digital wonderlands. Follow him @dlukenelson.