'Incogmeato' Is a Helluva Name for These New Plant-Based Meats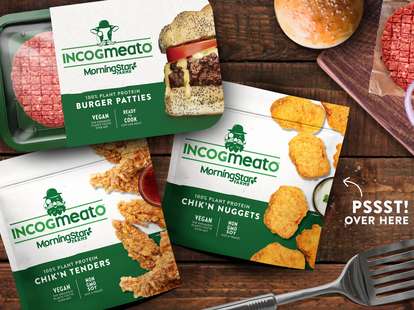 Courtesy of MorningStar Farms
Courtesy of MorningStar Farms
Incogmeato is such a corny name for a plant-based meat product that all I can do is admire it. Was that Kellogg's intention when launching this new plant-based protein product, set to rival the popular Beyond Meat and Impossible Foods products? Name it something so preposterously cheesy that it's actually... good? I'm not sure, but you have to admit it's clever.
The announcement of the new line of plant-based meats -- from chick'n tenders to burger patties that "bleed" -- follows a Kellogg's press release from March stating that all of its MorningStar products will be completely vegan by 2021. As of now, roughly 50% of MorningStar's products are already vegan.
"As more consumers are choosing a 'flexitarian' lifestyle and actively reducing meat, we're thrilled to be extending the MorningStar Farms portfolio with a delicious and satisfying meat-like experience," Sara Young, the general manager of MorningStar Farms, said in a statement.
The new product line will include "chicken" tenders and nuggets found in the frozen food aisle, as well as "red meat" burger patties in the fridge section. All three will be made of non-GMO soy that uses a "proprietary plant-based blend."
This isn't something particularly new to MorningStar; the Kellogg's-owned brand has been creating vegetarian-friendly alternatives for roughly 40 years, crafting wheat and soy-based "sausage" patties as well as black bean burgers. Jumping into the faux meat category with proteins that mimic animal products seems like a natural and contemporary progression, especially as Beyond Meat and Impossible Foods continue to branch out through fast food chains and grocery stores.
"We know the number one barrier to trying plant-based protein is taste," Young said. "These consumers are still seeking the amazing taste, texture, and sizzling qualities of meat but want a better alternative for themselves and the planet."
As Incogmeato isn't slated to launch until 2020, time will only tell whether or not their alternatives will actually taste better than a classic beef burger.
Sign up here for our daily Thrillist email and subscribe here for our YouTube channel to get your fix of the best in food/drink/fun.
Kat Thompson is a staff writer at Thrillist. Follow her on Twitter @katthompsonn.