Indeed Just Named the 'Scariest' jobs in America Right Now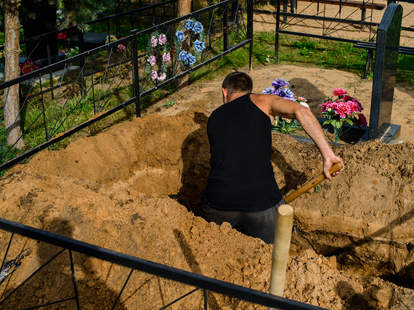 Halloween comes around once a year -- we eat our weight in pumpkin-shaped Reese's, dress up like sexy Popeyes Chicken Sandwiches, and attend haunted houses that require 40-page waivers. What a magical time! But for many workers, it sounds like spooky season doesn't end come November 1. 
Employment search engine Indeed is celebrating Halloween with a new report naming the country's most terrifying day (or night, I guess) jobs. And as what should come as a shock to absolutely no one, the leader in this category is Ghost Tour Guide -- for obvious reasons. If you are, I don't know, a masochist and interested in hanging around the spirits for a living, the site reports Boston (home of Charles Dickens haunted hotel), Charlotte, and San Antonio have the most hiring opportunities for this role. 
And while Gravedigger, Haunted House Staff, and Psychic sort of go hand-in-hand with Ghost Tour Guide on the terrifying scale, there were a few unlikely occupations included, like auditor. 
"Though auditors may not feature in horror movies, if you've cut corners on taxes or bills, you may very well be dreading a call or visit from them," the company wrote. "On the other hand, those whose books are in order have nothing to fear from auditors: for that reason, they get 2.5 out of five spooky ghosts on our scary scale." 
Taxidermists (who stuff dead animal bodies for display) and Entomologist (they're bug experts) were both included, as well. And though, yes, they're undoubtedly creepy, I can't say they're on par with someone that legit digs graves day-in and day-out. Parking Enforcement Officers and Dentists were also way down there on the list, so clearly, "scary" is a subjective term.
Sign up here for our daily Thrillist email and subscribe here for our YouTube channel to get your fix of the best in food/drink/fun.
Megan Schaltegger is a staff writer at Thrillist. Follow her @MegSchaltegger.