There's a New Label You Should Look for When Buying Craft Beer
As the big international brands continue to gobble up small breweries, there's a chance you've found it harder and harder to tell which beers are truly independent craft beers. A non-profit trade group of small American brewers hopes to make it easier for you to tell the difference with the launch of a new seal that clearly labels beers as "Independent Craft" on bottles and packaging.
The label from The Brewers Association indicates that the beer inside is lovingly made by a genuinely independent American brewery. [Caw.] Many imbibers are just looking for something that is either cheap or tastes good, but independent breweries want the chance to educate drinkers about which beers are actually independent and making contributions to their community. 
"When I go into a liquor store I like to know who's who and what's what," Minneapolis-based Surly Brewing president and CEO Omar Ansari told Thrillist. "Not everyone does. Not everyone cares. All this does is allow people to make an informed decision on what they're drinking and who they support. At the end of the day, that's what it's about."
With bigger breweries making in-roads to the craft beer marketplace -- AB InBev now touts brands like Goose Island, Golden Road, and Elysian -- small breweries see an opportunity to add transparency to the beer-buying process through this seal. "Small and independent craft brewers continue to turn the beer industry upside down so that they can live the American dream while still putting community above corporation, people ahead of profit, and beer before the bottom line," Bob Pease, president and CEO of the Brewers Association, said in a statement.
The label generated immediate excitement for some craft brewers. "We downloaded the seal and accompanying documents within minutes of learning of it and plan to include the seal on our labels," said Eric Paredes of Minneapolis-based Modist Brewing. "As far as consumer choices go, our hope is that this seal will have an impact on them."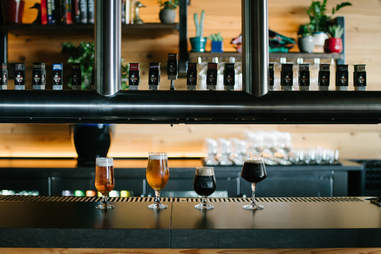 Redmond Digital Photography
There's some debate as to whether the label will have a significant impact on sales, but most believe transparency and education are important. Small and independent breweries make up 99% of the over 5,300 breweries in the United States, though they're responsible for just 12% of the beer sold nationally. "There are many attempts to emulate craft beer and confuse the consumer," said Dan Schwarz, co-founder and CEO of Lift Bridge Brewery. "The seal is an easy way for craft consumers to identify what comes from independent craft breweries."
Breweries may use this label free of charge even if they're not a member of the Brewers Association, as long as the brewery has a valid TTB Brewer's Notice, meet the Association's definition of a craft brewer, and sign a licensing agreement.
"I don't know about a sales change," said Ansari. "That's kind of not the point in my book. It's about letting people that care know there's a difference between breweries. They're not all like they used to be a few years ago. If you care and want to support a local brewery, look for that independent craft beer seal on the beer you buy."
Sign up here for our daily Thrillist email, and get your fix of the best in food/drink/fun.
Dustin Nelson is a News Writer with Thrillist. He holds a Guinness World Record but has never met the fingernail lady. Follow him @dlukenelson.