This Couple Just Finished Their 40-Year Quest to Visit Every Cracker Barrel in America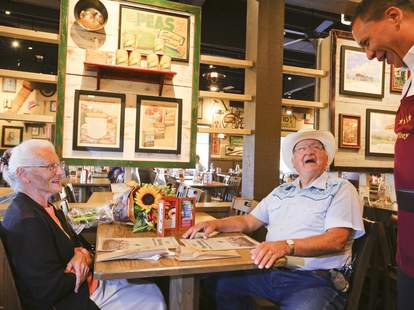 Courtesy of Portland Event Photography
They say that in order to achieve your goals in life, you need to focus on the things that really matter to you. That might mean aspiring to a certain career trajectory, or to start a family, or, if you're Ray and Wilma Yoder, to visit all 645 locations of your favorite restaurant: Cracker Barrel.
Amazingly, the Yoder's -- who've been chipping away at their goal for nearly 40 years -- just completed their modern-day odyssey after stopping by the iconic roadside restaurant chain's newest location outside Portland, Oregon, where they were treated to a hero's welcome.
On Monday (coincidentally Ray's 81st birthday), the long-married couple arrived at the brand new Cracker Barrel in Tualatin, Oregon on the restaurant's dime. After the company caught wind of their longstanding mission to visit every location, they flew them out from their farm in Goshen, Indiana so they could cross the last, and 645th, location off the list. Flashing cameras and a gaggle of Cracker Barrel employees stood outside to greet them before they were escorted to a table to enjoy a couple of their favorite breakfast items, including blueberry pancakes and hash brown casserole. As Ray told reporters on the scene, "These little farm kids aren't used to all this hype."
Ray, who spent much of his career delivering new RVs to dealerships and buyers around the country, had his first taste of Cracker Barrel nearly 40 years ago in Nashville while on the road for work. Over the years, Wilma began joining him on those trips, and as they criss-crossed America they began seeking out Cracker Barrels along the route because it felt like a home away from home for them. Eventually, their mission became clear. "I said to my wife, 'We have been to so many. Why don't we go to them all?'" he told USA Today.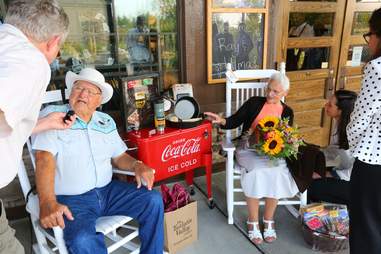 Courtesy of Portland Event Photography
While their much-celebrated visit to the freshly minted Tualatin location marks the last currently open Cracker Barrel they've yet to see and dine at, the Yoder's quest isn't necessarily over yet. As Ray told People, "I don't like to call it the last one, because I think we'll continue to go to some more."
And if they do, they'll need to plan a return trip to Oregon, because the chain is scheduled to open two more new locations there in the next year.
h/tUSA Today
Sign up here for our daily Thrillist email and subscribe here for our YouTube channel to get your fix of the best in food/drink/fun.