This Pizza Is Covered in 24K Gold and Costs $2,000. But Is It Really a Pizza?
What is pizza? With all of the insane new pies taking over New York and claiming to be pizza, it's about time someone set out mouth-first to investigate and ask Really, Dough? Thrillist's new show follows diehard pizza enthusiast Scott Wiener and hardline pizza purist Mark Iacono of Brooklyn's Lucali pizzeria as they find out what makes or breaks the definition of pizza. New episodes of
Really Dough?
air every Monday at 2pm ET on YouTube, or you can watch all six episodes now on Amazon Prime.
Sure, there are plenty of pizzas with weird ingredients out there that stretch the common understanding of what a pizza should be (just look at this ramen pizza), but a pizza at Industry Kitchen in New York City is pushing the definition of pizza even further with both its insane ingredients and its insane price tag. The 24K Pizza comes topped with a layer of actual gold and will set you back a cool $2,000. But is it really a pizza? We found out.
In the latest episode of Thrillist's new show, Really Dough?, host Scott Wiener travels to Lower Manhattan to check out the ultra-luxe pie with the help of guest and Industry Kitchen Executive Chef Braulio Bunay. The so-called pizza features hundreds of dollars worth of glittering gold leaf, top-shelf caviar, foie gras, Stilton cheese, and well, straight-up opulence. At first, Scott has trouble wrapping his brain around the edible circle of excess, but it all starts to make a little more sense when he bites into a slice (roughly $250).
"It's the weirdest pizza I've ever had," Scott says. "But without a doubt, it's pizza."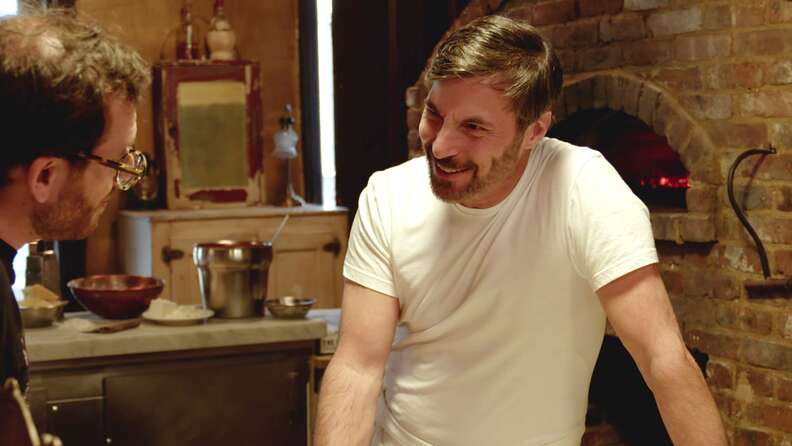 As for what his pizza purist co-host, Chef Mark Iacono of Brooklyn's Lucali pizzeria, will think of the ridiculous pizza, Scott is not optimistic. "Mark is going to be baffled by this pizza," he says. "This goes against everything in his body."
Mark's rules are pretty simple, but also very strict: "Sauce, cheese, and dough," he says. "You walk into a pizzeria, the smell should punch you in the face. Pizza tastes best served right out of the oven, 500 degrees across the board. Make it really good. A pizza should look better than it tastes. Those are the rules, with no exceptions."
Does the 24K Pizza even meet his three basic requirements? Sort of, according to Scott. The melted Stilton cheese acts as a sauce of sorts by fusing the other ingredients together, the gold serves as a visual representation of cheese on top, and the dough, while chewier than other pizzas and black from squid ink, is well, dough. The moment of truth arrives when Scott brings the 24K Pizza to Mark's Brooklyn kitchen.
"This is the two thousand dollar pizza?" Mark asks, pointing at the squid ink-dyed crust. "They burnt it."
Despite his clear misgivings, he bites into a slice before delivering his verdict. Can he bring himself to officially declare it pizza? Check out the full episode (shown above) to find out.
Sign up here for our daily Thrillist email and subscribe here for our YouTube channel to get your fix of the best in food/drink/fun.