Instacart's Adding 2 New Features So You Can Get Groceries Faster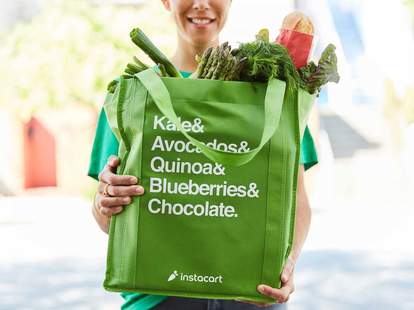 With an overwhelming demand for groceries and pantry essentials amidst the COVID-19 outbreak, access to services like Amazon Fresh and Instacart have become increasingly limited. Same day delivery feels like nothing but a distant memory. But now, the latter app is rolling out a series of new features so customers can get their groceries faster. 
On Wednesday, Instacart announced two updates: "fast & flexible" and "order ahead," allowing users quicker service and more delivery window availability. The move comes in response to a demand increase of 300% year-over-year and growth of active shoppers from 200,000 to 350,000. 
"Fast & flexible more efficiently matches customer orders with real-time shopper availability to deliver more orders -- often more quickly -- to customers," the company said in a statement on April 8. "The new feature means customers no longer need to check back for updated delivery windows from their favorite store. Instead, they can set it and forget it, allowing Instacart to do the work of matching their order with the first available delivery time." 
You'll still get an estimated delivery range, but now you'll get the first available shopper rather than having to schedule your order for a specific window. You'll be notified when your order was picked up and how soon it'll be dropped off.
Meanwhile, the extended order ahead feature allows you to opt for a delivery window up to two weeks in advance, so you can plan your toilet paper restock before you're fresh out and scrambling around the city in search of a few coveted rolls.
"This new functionality allows customers to build their digital cart well in advance of when they need their groceries or goods," the press release continues. "The new Order Ahead feature is available today in a number of high demand locations, and will be rolling out across North America to all customers in the coming weeks."
Sign up here for our daily Thrillist email and subscribe here for our YouTube channel to get your fix of the best in food/drink/fun.
Megan Schaltegger is staff writer at Thrillist.