New Poll Reveals the Thanksgiving Food People Secretly Hate the Most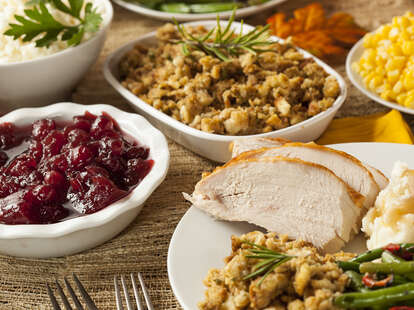 Shutterstock.com
Shutterstock.com
Everyone has their Thanksgiving favorite (mom's homemade stuffing will die a legend) and a dish they'd rather live without (Aunt Karen's green bean casserole gets worse by the year). And while it varies from person to person, a new poll from Instacart titled "Turkey Day Exposé" reveals there's some agreement on the topic of worst Thanksgiving food.
The survey, conducted by The Harris Poll, revealed a pretty surprising finding: Cranberry sauce is the worst.
The Harris Poll surveyed 2,000 US adults -- 87% of which actually sit down for a Thanksgiving dinner -- and found that we pretty much unanimously hate the traditional side dish. As many as 68% of participants were not fans, but ate it anyway, while 46% found it downright "disgusting." Green bean casserole and sweet potatoes/sweet potato casserole scored an honorable mention for their own poor reviews.
"Along with Thanksgiving comes a cornucopia of conflicted feelings -- from hosting hassles, to menu debates, to intergenerational differences," the company wrote in a statement. "We wanted to know… do Americans actually enjoy the classic meal or do we just fill our plates to honor tradition?"
Some of the respondents seemed a little fickle though -- 19% hate turkey (it's legit the main event?) and 21% dissed pumpkin pie (the audacity!). But whatever, just means more for me.
Here are a few more more highlights from the survey:
42% of millennials served something other than turkey for Thanksgiving.
23% of Americans don't like Thanksgiving leftovers (side note: they're missing out).
59% of Americans look at Thanksgiving as an excuse to skip their diet (it's true).
Only 10% of people bought pecan pies ahead of Thanksgiving last year (also missing out).
h/t TODAY
Sign up here for our daily Thrillist email and subscribe here for our YouTube channel to get your fix of the best in food/drink/fun.
Megan Schaltegger is a staff writer at Thrillist. Follow her @MegSchaltegger.