Hilarious Napping Baby Cosplays 'Stranger Things,' Olympics, Summer's Best Moments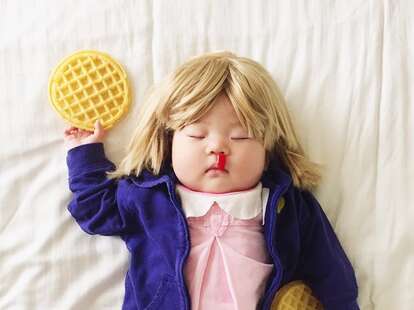 Instagram / @lauraiz
Instagram / @lauraiz
There are a lot of things you can do with your kids. Teach them to read, take them to the park, teach them how to fake burp... or you can dress them up in cosplay while they're sleeping. The latter option might not be the most obvious activity, but photographer Laura Izumikawa has shown that it's no less worthwhile.
Izumikawa has been dressing up her four-month-old Joey Marie in some incredible homemade costumes while the baby sleeps. The photos are posted on her Instagram account and her timeline of baby cosplay might be the best way to summarize everything that has happened over the summer. Joey Marie's napping costumes take you through Pokémon and Ghostbusters, the Olympics and Stranger Things, as seen her fantastic Eleven costume.
The bloody nose on the Eleven cosplay is a very nice touch.
The outfits are amazing, but the best part of Izumikawa's Instagram feed might be the short video that accompanies each outfit. It shows Joey Marie falling asleep and a drop test to show just how hard the baby is sleeping. Then, the costumes are made.
The whole series is pretty hilarious. Take a look at Wayne Campbell (Wayne's World), Slash, Furiosa from Mad Max, Pikachu, Han Solo, and other costumes below.
Sign up here for our daily Thrillist email, and get your fix of the best in food/drink/fun.
Dustin Nelson is a News Writer with Thrillist. He holds a Guinness World Record, but has never met the fingernail lady. He's written for Sports Illustrated, Men's Journal, The Rumpus, and other digital wonderlands. Follow him @dlukenelson.