Finally, Instagram Let's You Mute All the Annoying People in Your Feed
Unfollowing someone on Instagram is riddled with all sorts of politics and the possibility of starting a feud. Don't want to see a picture of your cousin's Unicorn Frappuccino, accompanied by a 300-word caption about the importance of following your dreams? Well, you no longer have to put up with the worst of your feed without unfollowing someone. Instagram has finally introduced an option to mute all of the inane and undeniably annoying people clogging up your Insta-experience.
To mute someone, just go to the person's account whom you'd like to mute, and tap the three dots on the top, right hand side of their profile. Among all the options, which include reporting and blocking the account, you'll see the new mute button. In the menu, you'll be given the option to "mute posts," "mute story" or "mute posts and story."
Instagram is officially rolling out the feature in a "few weeks," and it'll eventually look like this: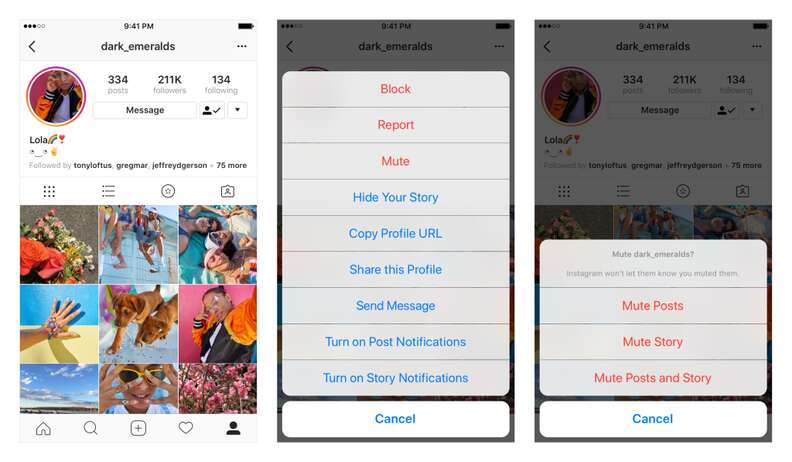 If you're hyper-sensitive about offending someone, the good news is you can still see a muted account's content if you click on it.
But hey, you should be able to curate what you see on your own Instagram. So if you don't want to see your old high school buddy's terrible attempts at street photography, adorned with misspelled hashtags and silly filters, then by all means, smash that mute button whenever you please.
Sign up here for our daily Thrillist email and subscribe here for our YouTube channel to get your fix of the best in food/drink/fun.
 
Sam Blum is a News Staff Writer for Thrillist. He's also a martial arts and music nerd who appreciates a fine sandwich and cute dogs. Find his clips in The Guardian, Rolling Stone, The A.V. Club and Esquire. He's on Twitter @Blumnessmonster.