Here's Why Popular Instagrammers Are Begging You to Turn on Notifications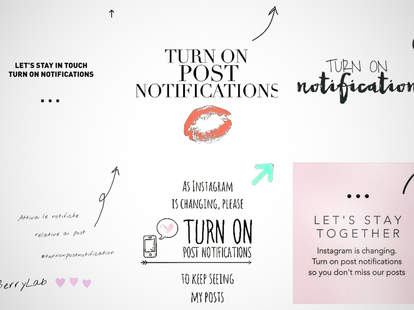 While Instagram's controversial new algorithm likely won't affect your ability to score six whole likes on a Mayfair-filtered photo of your boozy al fresco brunch, lots of Instagram "personalities," brands, and D-list celebrities are freaking out over concerns that killing the longtime chronological order will bury their important photos under better posts in your timeline. 
To combat the apparently horrific (however, yet to be seen) effects of the dreaded algorithm, many notable Instagram users -- from Kylie Jenner to Marc Jacobs -- are downright begging their legions of followers to turn on push notifications for their photos with a flood of annoying posts showing an arrow pointing to the notifications toggle button. As any true creeper knows, the button has been around for a while, but many think the basic feature is their only hope for racking up the zillion likes they need to survive:
Perhaps in response to the rather pointed backlash, Instagram assured users on Monday, saying nothing's going to change anytime soon. 
We're listening and we assure you nothing is changing with your feed right now. We promise to let you know when changes roll out broadly.

— Instagram (@instagram) March 28, 2016
Make no mistake: the loss of Instagram's chronological order will probably be annoying and certainly seems to detract from what the mobile app's name suggests. But it probably won't lead to the end of the world, although that would probably look fantastic in Valencia.
Sign up here for our daily Thrillist email, and get your fix of the best in food/drink/fun.
Tony Merevick is Cities News Editor at Thrillist and is not at all surprised that people are annoying on the internet. Send news tips to news@thrillist.com and follow him on Twitter @tonymerevick.