Man Buys a Live Pig, Peacock, and Giant Salamander After Shopping Online While Drinking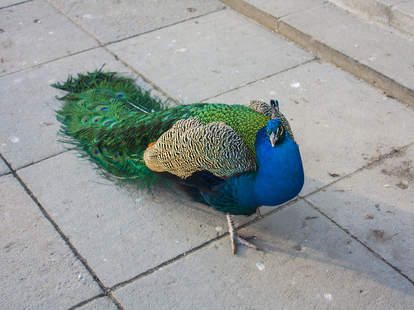 It's never easier to appreciate the appeal of consumerism than while shopping online after a few drinks; it's never easier to feel like money itself is a scourge upon the Earth than when all those packages show up.
Consider this story, via the South China Morning Post, of a man who was shopping online while under the influence and soon became the proud owner of a pig, a peacock, and a giant salamander -- unbeknownst to his sober self. These sensible purchases were made on Singles' Day, a 24-hour event in China that's similar to Black Friday and Cyber Monday in the United States, but bigger. 
When the man discovered what he'd done, he shared it via a WeChat post that made its way to Weibo, a platform similar to Twitter, via another man, CNET reports. 
"Early in the morning yesterday, while I was drunk, I clicked into Taobao and started shopping," the shopper wrote. "All along I thought I'd only bought two sets of clothes. I suddenly remembered to check if the clothes I bought have been shipped, and realized I'd also bought a pig and a peacock."
In another post, he explained that he'd used the website JD.com to order a giant salamander separately. There were also screenshots of the orders of the animals, which CNET reports ran him the equivalent of $40 for the "extremely adorable Thai mini pig," $56 for the blue peacock (with shipping), and $41 for the roughly 3-kilogram salamander.
JD.com explained that the giant salamander doesn't fall under its seven-day return policy.
Let this be a lesson to all of you.
Sign up here for our daily Thrillist email and subscribe here for our YouTube channel to get your fix of the best in food/drink/fun.