Your iPhone's Location Tracking Notification Is About to Get Kind of Annoying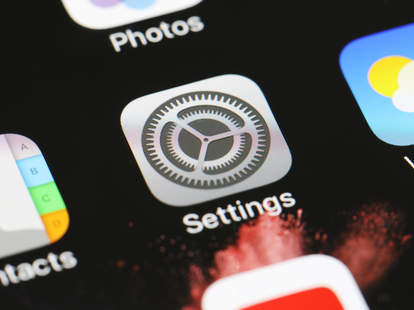 The endlessly chaotic love-hate relationship you have with your phone, ye blessed Apple customers, is about to get even more turbulent, thanks to a new feature revealed in the iOS 11 Public Beta software that Apple released this week: your iPhone will make it way more obvious when any app is using your location in the background by inserting an obtrusive blue bar at the top of your screen.
Some developers and early adopters of the beta (which gets an official rollout in September) have taken to Twitter to share what the update will look like, and as some are already pointing out, it may present serious problems for location-based apps like FourSquare, Yelp, or Uber if it's included in the final version this fall. There's a chance Apple may decide against the bar in the end, of course.
The blue bar isn't the only change, though. On previous iOS versions, users had the option to select whether a given app was "Always" or "Never" allowed to use your location for the app's functionality. It made no distinction -- unless the app's developer had chosen to make the distinction -- of whether or not location tracking was happening in the background. On iOS 11, any app that uses your phone's location services gets a third option, "While Using App," an update which will make it impossible for apps to track your location in the background if you don't want them to. Only some apps included this option previously.
Additionally, the previous signal that an app was using your location data -- the tiny solid and hollow arrows at the top of your iPhone's display -- is changing too. On iOS 10, the hollow arrow lit up and turned solid, and stayed solid, if any app was using your location data, whether it was just a quick ping or movement outside of a given place (i.e. apps using geofencing for music festivals) or continuous location tracking (i.e. Google Maps). That was flawed, Apple reasoned, because it mischaracterized what location data was being sent from certain apps as opposed to others. On iOS 11, the arrow remains, but it will appear and display as hollow when a location is requested. When the location is given, it will then turn solid for a few seconds.
But the blaring blue bar is where the new updates shine most starkly. It will appear while location-tracking apps are being used in the background, when your phone is getting a quick location ping from those apps, and it will distinguish as to whether those apps are "using your location" or "actively using your location." It flashes at the top of your screen. These are notifications, with extreme prejudice.
TechCrunch's Sarah Perez summed it up perfectly: "This dramatically increases the visibility of apps' use of your location data, potentially highlighting troublesome apps to end users who may not have been aware of what permissions the app had been given."
All of this will make a difference because, realistically, most apps don't "Always" need to know your location all the time. It's a battery life sinkhole, it can be really crummy programming, and it comes rife with privacy concerns. Maybe a flashing blue bar is just the annoying jolt the doctor ordered.