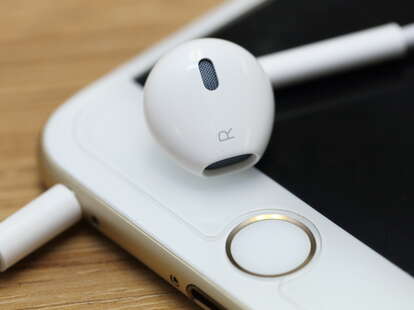 <a href="http://www.shutterstock.com/gallery-864901p1.html?cr=00&amp;pl=edit-00">charnsitr</a> / <a href="http://www.shutterstock.com/editorial?cr=00&amp;pl=edit-00">Shutterstock.com</a>
"Look mom, no wires!" is what the iPhone 7 would say, if Siri talked unprompted, was sentient, and ostensibly had a mom. Thankfully, that's not the case.
But the rumor mill is working hard to predict every aspect of the iPhone 7, even though it won't debut till September 2016. For instance, will the new iPhone have an headphone jack, or nah? The answer is looking more and more like "Nah," as sources said back in November that to make the new iPhone the slimmest yet, Apple would eliminate the 3.5mm port in favor of a Lightning connector. People have moaned plenty. But there may be a good -- and dare we say cool? -- reason.
A recent, mysterious registration of the trademark name, "AirPods," raised flags with people who watch Apple closely. Now, new reports are claiming that Apple is currently in the process of developing special bluetooth headphones, which are said to be similar to Bragi's Dash headphones. Naturally, people are connecting those dots, despite that fact there are no connective wires.
These headphones in question would be sold separately as a fun, new Apple accessory that obviously you must have. They'd sit in your ears and would have a "noise-canceling microphone system," so that the passing traffic doesn't jumble your Siri request, and you don't have to use your iPhone's microphone. They might also have a button enabling in-coming calls. Finally, they could come with a carrying case that also acts as a headphone charger. Though this does mean you'll have to worry about charging your iPhone and your fancy bluetooth headphones.
The main takeaway here? Size matters a whole lot to Apple. But it's the motion in the... wireless headphones that matters?
Sign up here for our daily Thrillist email, and get your fix of the best in food/drink/fun.
Kara King is a News Writer at Thrillist and spends a lot of time entangled in headphone wires. Send news tips to news@thrillist.com and follow her at @karatillie.