Here Are the Biggest Features That Set the iPhone X Apart from the iPhone 8
In a break with its recent pattern of showing off just two new iPhones — an iPhone and an iPhone Plus — at a time, Apple officially announced on Tuesday that it's launching three new phones this month, the iPhone 8, iPhone 8 Plus, and a game-changing iPhone X. While all three feature major upgrades over the iPhone 7 series of last year, many of the most exciting bells and whistles unveiled during the company's event are exclusive to the iPhone X. Here are the main differences.
Apple Keynote
Face ID
Perhaps the defining characteristic of the iPhone X is its facial scanning capabilities, or Face ID. Geared primarily toward securing your device — and basically ensuring no one else can get past your lock screen — Face ID uses "advanced depth-sensing technologies" that become accustomed to the intricacies of a user's face over time. The iPhone 8 and 8 Plus, on the other hand, offer the standard fingerprint sensor built into the Home button.
What's more, the technology is compatible with Apple Pay and many third party apps, so you'll certainly need to depend on it, especially in lieu of the Home button, which is nowhere to be found on iPhone X. Moreover, FaceID is designed specifically to circumvent attempts to infiltrate your device by imposters — you know, like someone wearing a mask or using a photo of you. To make all of this work, the phone projects tens of thousands of dots, combined with an infrared camera and an ambient light sensor to memorize your face.
Display and Screen Size
Size always matters when it comes to Apple products, and you'll certainly be paying a premium for the iPhone X's
Super Retina Display
, which spreads out across the phone's 5.8in screen. The X is also set apart from the other devices by offering Apple's first OLED screen, which helps maximize the vividness of color.
The iPhone 8 Plus is big, but not gargantuan, offering a 5.5-inch screen, while the iPhone 8 is decidedly smaller at 4.4in. The X also provides a high enough pixel resolution to put you in a trance, and unlike the iPhone 8 and 8 Plus, boasts a High Dynamic Range — which is said to elevate visuals captured on a smartphone to a new frontier.
Apple
Camera
While the 8 and 8 Plus are certainly no slouches when it comes to camera quality, the iPhone X reportedly boasts "the highest quality video capture ever in a smartphone." The iPhone X's camera is just a little bit more sophisticated than its less hifalutin counterparts, boasting dual optical image stabilization and a slightly better aperture. What truly sets it apart, however, is the front-facing True Depth Camera, which enables Face ID to work.
The iPhone 8 Plus is basically identical in terms of its camera — minus facial recognition — as it mirrors the iPhone X by offering portrait mode and portrait lighting, the latter of which is still in beta. The standard iPhone 8, however, offers less, but still factors in at much more of a bargain price.
Charging
You're in luck when it comes to the perennial headache of a fading battery, because Apple claims the
iPhone X packs two more hours of battery life than the iPhone 7
. Meanwhile, the iPhone 8 has about the same battery life as the iPhone 7 and, similarly, the iPhone 8 Plus has about the same battery life as the iPhone 7 Plus, according to the company's
tech specs
. And thanks to their all-glass designs, all three phones are compatible with wireless charging.
While the company confirmed it won't bring its own wireless charging AirPower mat to market until next year, you can pick up an industry standard wireless charging mat on Apple's website.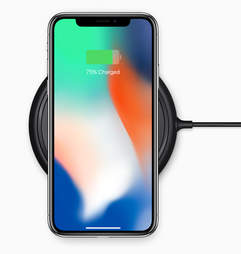 Apple
Size and Weight
The iPhone X is smaller than the iPhone 8 Plus, but bigger than the standard iPhone 8. The X is 5.65in tall, 2.79in wide and weighs 6.14oz. The 8 Plus is obviously the most substantial, factoring in at 6.24in and a little over 3in wide. The starter iPhone 8 is closest to the iPhone X in terms of size, coming in at 5.45in tall and 2.65in wide.
Needless to say you've got a myriad of options when muling over which one of Apple's flagship products you're looking to buy, and you have until later this month to start buying them.
Sign up here for our daily Thrillist email and subscribe here for our YouTube channel to get your fix of the best in food/drink/fun.

Sam Blum is a News Staff Writer for Thrillist. He's also a martial arts and music nerd who appreciates a fine sandwich and cute dogs. Find his clips in The Guardian, Rolling Stone, The A.V. Club and Esquire. He's on Twitter @Blumnessmonster.