It turns out that buying the latest, most-expensive smartphone with the largest screen does not, in fact, lead to happiness. That's at least what the 2017 report from the American Consumer Satisfaction Index (ASCI) claims. In its latest Telecommunications Report, the inexpensive iPhone SE -- the runt of Apple's current litter of smartphones alongside the iPhone 7 and iPhone 7 Plus -- took the top spot for phones that users were happiest with.
ASCI points out that the iPhone SE's smaller screen likely has a lot to do with its success among users. The iPhone 7 Plus and Samsung's Galaxy S6 Edge Plus tied for second place, sporting 5.5-inch and 5.7-inch displays respectively. The iPhone 7 Plus is Apple's flagship and retails for $869 at its lowest configuration, while the Galaxy S6 Edge Plus (almost two years old and carrying half the storage space at its highest configuration) is available refurbished for around $400. You can get the humble iPhone SE brand new for $399 for the 32GB model, or shell out another hundred for the $499 128GB model, which isn't bad, comparatively.
Considering that the SE is a cross between the iPhone 6 generation's more powerful hardware and the form and the 4-inch screen size of the older 5S, it serves as an ideal middle-ground. The SE, the iPhone 5, and the 5S are the smallest phones on the list. Per ASCI's report, "Apparently, consumers were craving a new iteration of a smaller, less expensive phone as the SE is Apple's first update to a 4-inch phone since 2013."
The ASCI's numbers are based on interviews it conducted with about 180,000 American consumers, reporting on annual trends and data from more than 300 companies in dozens of different industries. It ranks all of its lists on a 0-100 scale and, for this report, based its findings on 36,194 interviews conducted between May 2016 and April 2017.
Here's the full rundown of brands and models included on the customer satisfaction list for smartphones. You can read the full report here.
Recommended Video
Send Foodz: New York City Wine & Food Festival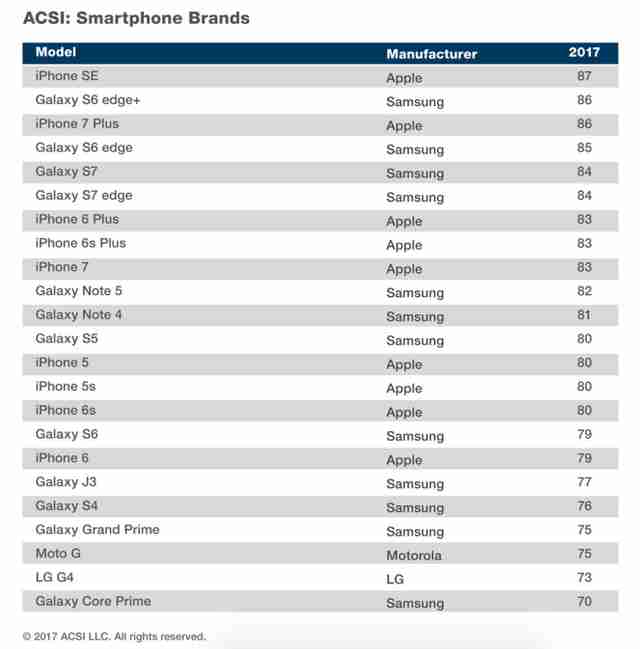 Sign up here for our daily Thrillist email, and get your fix of the best in food/drink/fun.