In the hallowed tradition of Woody and Buzz in Toy Story or Moss on The IT Crowd, a young man in Ireland saw something he liked inside a claw machine and decided it was Treat Yo' Self 2017. Jamie Bracken-Murphy, who was described as "mischievous" three-year-old in a Facebook post by his father Damien Murphy, saw his opportunity and took it. 
As documented by Damien, Jamie wound up inside a claw machine. 
Recommended Video
Please Don't Hang Up: The Best Things to See, Eat, and Do in Portland, ME
"We were in a play center here in Nenagh and I took my eyes off him for about five seconds as he walked towards the claw machine," Damien told the Irish Independent. "I then heard a muffled complaint and when I looked up, he was behind the glass of the machine.
"I tried to get him out, but it seemed like he did not have enough space to maneuver his way out, so I told him to be calm and wait while I got one of the staff to find the keys to the machine."
The staff told Damien they'd never seen anyone work their way to the machine's innards. Fortunately, an off-duty fireman was at the arcade with his son and helped Jamie shimmy his way out of the machine. 
Even better, when Jamie came out, he took a couple dinosaurs with him. The staff let him keep them because he worked awfully hard to get his hands on those dinos.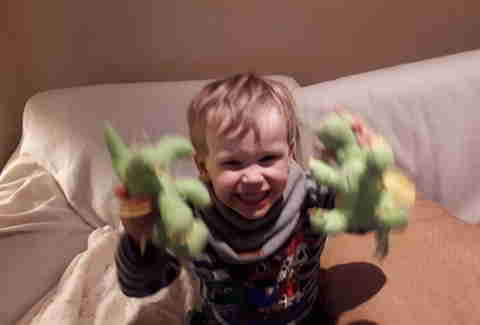 Sign up here for our daily Thrillist email, and get your fix of the best in food/drink/fun.