Tourists Who Frolicked Naked in Italian Monument Fountain Are Now in Big, Big Trouble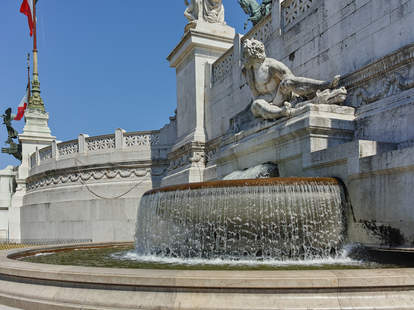 If you happen to know anyone with a proclivity for stripping nude in public who's currently vacationing in Rome, you may want to take a closer look at some photos circulating online, showing two dudes dropping trou in a famous fountain. Not only because you might recognize them, but also because Italian authorities are on the hunt for the two English-speaking tourists for allegedly exposing themselves at the historic monument.
The pair, who decided to strip down to their underwear and jump in the Altare della Patria fountain, have royally pissed off the police in Rome for desecrating the monument, which translates to "Altar of the Fatherland" and is dedicated to fallen soldiers. Officials are presumably even angrier with one of the men, who took things a step further by stripping off his skivvies to pose bare-ass naked for a photo, according a report in The Guardian.
The pair, who have not yet been tracked down, are thought to be British, and will end up potentially paying a pretty penny for the pic they convinced onlookers to snap of them frolicking in the buff. That's because, per a police source, they face a fine of at least $460 if caught.
Many Italians are understandably irked by the pair's behavior, since it's pretty disrespectful to goof off like this in a place meant to commemorate the dead. Though presumably also because fountain-jumping tourists are apparently quite a nuisance in Italy, especially during the hot summer months, as authorities struggle to control it.
In a Tweet, Italy's interior minister Matteo Salvini was pretty blunt with his criticism of these particular fountain-jumpers, posting the message that translates to "I would know how to 'educate' these idiots if they get caught, Italy is not their bathroom!" alongside a story about them. So, uh, pro-tip: maybe keep your clothes on and Photoshop yourself into the fountains? 
Frankly, it's very possible these dudes were just super hot after a day of sightseeing and desperately needed to cool off. Then again, if that's the case, they should have probably high-tailed it to one of these gorgeous beaches. 
h/tThe Guardian
Sign up here for our daily Thrillist email and subscribe here for our YouTube channel to get your fix of the best in food/drink/fun.