Italy Is Reopening for Tourism in June, But Not for American Travelers
You're gonna have to wait a little longer to book that Rome trip.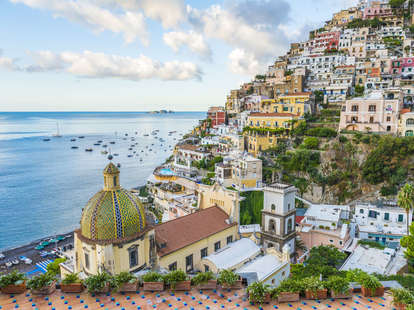 ANDREA COMI/MOMENT/GETTY IMAGES
You've spent the last two months on your couch, dreaming of the day quarantine finally ends. But just because parts of the globe have begun the early stages of reopening, doesn't mean we can all hop a flight anytime soon.
Following its strict coronavirus lockdowns, Italy is opening its regional and international borders, in addition to nixing its 14-day quarantine policy for those arriving. This next phase, which will begin June 3, marks an important milestone for the country -- where the virus walloped communities, killing over 33,000. And while these eased restrictions will allow tourists back on the Positano beaches and streets of Rome, Americans can't get in on the action -- yet.
The updated regulations exclude US residents, Afar reports. So who is allowed? According to the outlet, travel into Italy is restricted to countries in the European Union, as well as the UK, Northern Ireland, and microstates and principalities of Andorra, Monaco, San Marino, and the Vatican.
Those who test positive for COVID-19 or come in contact with someone who has will still be required to follow quarantine measures. And while we don't have a solid date for when US tourists will be allowed in for non-essential visits, the European Commission is considering as early as June 15, 2020.
"Tourism in Italy will start again, with all precautions and in maximum safety," president of ENIT-Italian National Tourist Board Giorgio Palmucci said, following rumors of a border shutdown for tourists through 2021. "Those who love Italy must be allowed to return to enjoy it, in compliance with governmental and regional guidelines. It is a delicate phase in which it is essential to defend Italy also through correct communication."
Italy began its phase 2 of its reopening process on May 4, allowing residents to go to parks, and in some cases, work. on May 18, restaurants, bars, and shops reopened, as well as travel within regions. On May 25, swimming pools and gyms welcomed back patrons, with cinemas and theaters soon to follow on June 15.
h/tAfar
Sign up here for our daily Thrillist email and subscribe here for our YouTube channel to get your fix of the best in food/drink/fun.
Megan Schaltegger is a staff writer at Thrillist.