'IT''s Bill Skarsgård Reveals the Secret Behind Pennywise's Creepy Voice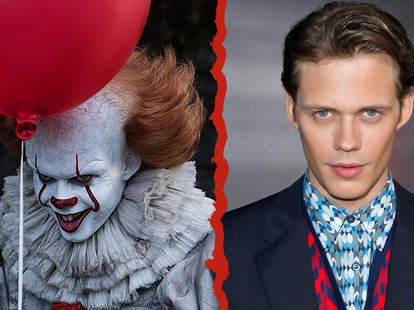 NEW LINE CINEMA/ALBERT L. ORTEGA/GETTY IMAGES
For a number of reasons, Bill Skarsgård was a natural fit to play the demonic clown Pennywise in the newest adaption of Stephen King's IT. For starters, he's managed to transform the red-nosed monster into a nascent sex symbol. But while some of Pennywise's more sinister traits were almost too easy for Skarsgård to master, the Swede recently revealed that it took a lot of determination and well, burping, to develop the clown's bone-chilling voice.
"The voice for me sort of started out with a laugh," he told Variety's Playback podcast. "I was playing around with a laugh, but on the verge of a panic attack and crying at the same time. When I started doing it just by myself, I started to creep myself out."
"It doesn't sound like a real laugh which goes into the aspect of the character not being human or a perfect clown."
All of the maniacal laughter was made easier by Skarsgård's thirst for soda water, which the actor said he swilled to give his laugh a grittier quality. In reality, though, it made him belch excessively and delivered a stomach ache. (Such is the life of fearless method actor.)
As playing a murderous clown in a convincing manner is no easy feat, Skarsgård has been consistently asked how he prepared for the role. Just as Pennwise's laugh has been a point of conjecture for people who've seen the film, so too has the clown's deranged smile. Although it seems like the eerie grin would take a year's worth of training at Juilliard to master, Skarsgård recently revealed that he's always maintained the ability to smile like a complete psychopath.
Suffice it say that some people are born with a clown gene, and Skarsgård is certainly one of them.
Sign up here for our daily Thrillist email and subscribe here for our YouTube channel to get your fix of the best in food/drink/fun.

Sam Blum is a News Staff Writer for Thrillist. He's also a martial arts and music nerd who appreciates a fine sandwich and cute dogs. Find his clips in The Guardian, Rolling Stone, The A.V. Club and Esquire. He's on Twitter @Blumnessmonster.