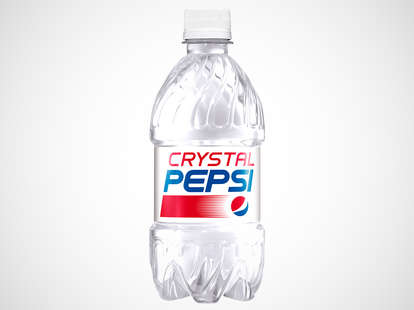 Somehow, 2015 is pretty damn similar to the 1992-1993 era, in the sense that people were freaking out about a major E. Coli outbreak, a Clinton and a Bush were running for president, one Lorena Bobbitt was in the news, and a Jurassic Park movie was in theaters. And now, yet another significant cultural phenomena is powering the hot tub time machine between now and some 22-or-so years ago: Crystal Pepsi.
That's right, the alarmingly clear elixir that tastes like sugary-sweet '90s nostalgia (and Pepsi, hopefully) is officially making a comeback just in time for the holidays, thanks to diehard fans who passionately campaigned for its return earlier this year, Pepsi announced on Tuesday. But -- but -- there's a big catch. Instead of triumphantly reappearing in a soda aisle near you (like Coca-Cola did with Surge), you'll have to do something decidedly 2015 to get your hands on the clear cola: enter a sweepstakes via the Pepsi Pass app.
Here's how to do it, as explained by Pepsi: "Fans can download the Pepsi Pass app and enter the sweepstakes beginning at noon [Eastern Time] on Dec. 10. Winners will be picked and notified the week of December 14th and will receive their Crystal Pepsi for the holidays!" A spokeswoman said Pepsi is giving away 13,000 6-packs and that you can enter three times on each of the two days of the sweepstakes, December 10th and December 11th. But good luck trying to play from your flip phone and dial up connection.
Additionally, Pepsi released a video alongside the sweepstakes announcement that follows a custodian discovering a forgotten 92nd floor at Pepsi HQ where the Crystal Pepsi operation actually never shut down. An appropriately '90s style party ensues.
If you get your hands on some, please, let us know what it's like. We've reached out to Pepsi to snag some for ourselves.
Sign up here for our daily Thrillist email, and get your fix of the best in food/drink/fun.
Tony Merevick is Cities News Editor at Thrillist and should probably break out his old boombox and ugly denim shorts. Send news tips to news@thrillist.com and follow him on Twitter @tonymerevick.