Jack Daniel's Is Making an Advent Calendar & December Might Be Okay
Whiskey when you need it most.
Courtesy of Jack Daniel's
Courtesy of Jack Daniel's
December means holiday stress, cold temperatures, and trying to stay positive as hibernation season begins. While it might not keep the doctor away like an advent calendar full of apples, a Jack Daniel's calendar is likely to bring a little cheer to the long, long month.
For the first time, Jack Daniel's will offer a whiskey-filled advent calendar in the US. (It was first available last year in the UK.) Inside this box o' delights are 18 mini bottles of various Jack Daniel's whiskeys. Each bottle contains 50ml—slightly more than a shot—of warming brown liquid.
Inside the festive black box, you'll find four bottles each of Jack Daniel's Tennessee Whiskey, Tennessee Rye, Tennessee Honey, and Tennessee Fire. There is also one single bottle each of Gentleman Jack and Jack Daniel's Single Barrel Select. (The latter is pretty damn nice.) The cardboard box has a suitcase-style handle to help you lug your pile of bottles—some plastic and some of the nicer ones come in glass—from room to room as you patiently wait for the next day and its attendant whiskey to arrive.
It does not, unfortunately, include the Jack Daniel's Single Barrel Heritage Barrel release that was heavily praised in 2018 by Whisky Advocate. Fewer than 200 barrels were set aside for this year's release.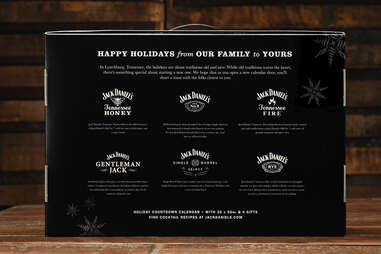 The calendar isn't solely booze, though. It has alcohol-adjacent items like four shot glasses, in case you're not interested in drinking out of the box's tiny bottles. Outside the US, you'll also nab a bonus bottle of Tennessee Whiskey, a key ring, jigger, and shot glasses. "We're excited to roll out the Jack Daniel's Holiday Calendar into multiple markets this year, as it was a huge hit in the UK in 2018," master distiller Jeff Arnett said in a statement.
You'll be able to start tracking it down this month for $79.99 a pop. Counting down the days until Auntie Muriel arrives for the holidays will be far more fun this year.
Sign up here for our daily Thrillist email and subscribe here for our YouTube channel to get your fix of the best in food/drink/fun.