Jack Daniel's Is Making Whiskey-Infused Coffee Now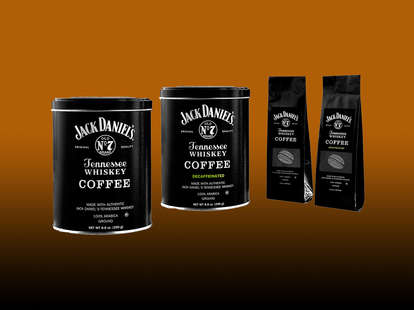 Courtesy of Jack Daniel's/Ryan Craggs/Thrillist
Courtesy of Jack Daniel's/Ryan Craggs/Thrillist
Besides attempting the dubious "hair of the dog" hangover remedy, drinking whiskey first thing in the morning is, well, generally frowned upon. But it turns out you can actually drink Jack Daniel's first thing in the morning now, without having to question your life choices. Jack Daniel's new whiskey-infused coffee, that is.
On Thursday, Jack Daniel's officially announced the new line of coffee products, simply dubbed Jack Daniel's Tennessee Whiskey Coffee, in partnership with specialty roaster World of Coffee. The whiskey giant describes the booze-flavored brew as "premium 100% Arabica coffee, roasted medium [that's] infused with Jack Daniel's Old No. 7 Tennessee Whiskey." But don't expect it to give you a different kind of coffee buzz because, sadly, it's non-alcoholic. You'll just have to stick with Irish coffee if that's what you're looking for.
As Charlie Newman, president/owner and roast master of World of Coffee, explained in a statement, the coffee is meant to combine high-quality coffee with the flavors and aromas of Jack Daniel's whiskey, such as notes of caramel and vanilla. If you think about it, these are perfectly reasonable flavors to combine with coffee.
Jack Daniel's said the coffee is currently available at its Lynchburg Hardware and General Store in Lynchburg, Tennessee, as well as via its online store ahead of a nationwide release sometime in the near future. It's available in both regular and decaf and comes in 8.8oz collectible tins and 1.5oz gift bags that start at around $7.
Let's just hope the whiskey-infused coffee is better than wine-infused coffee.
Sign up here for our daily Thrillist email, and get your fix of the best in food/drink/fun.
Tony Merevick is Cities News Editor at Thrillist and hopes this stuff is better than wine-infused coffee. Send news tips to news@thrillist.com and follow him on Twitter @tonymerevick.