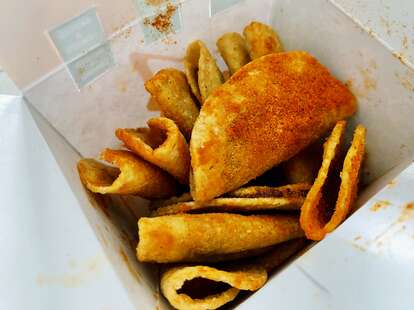 Jack in the Box's new Nacho Tiny Tacos are indeed tiny—roughly 60% the length of a typical hard shell taco (we measured!). So, it seems only fitting that we condense our usual fast food review format, accordingly. Just for fun.
The chain started serving Nacho Tiny Tacos (priced around $3.50 for 15 pieces) earlier this month, billing them as a cheesy upgrade to its longtime Tiny Tacos offering. The difference? They sport a handsome, orange coating of nacho cheese dust, and come served with a side of ranch. You can also order them in the form of Bacon Loaded Nacho Tiny Tacos (around $4.50), which come further dressed with cheddar cheese sauce, bacon crumbles, ranch, and Spicy Good Good sauce. We, of course, tried both versions.
Nacho Tiny Tacos Review
Here's what we thought about them, in five easily digestible morsels:
Wow, they're very orange. Surprisingly generous amount of of nacho cheese dusting on all of them. Prepare to lick your fingers.
The smell is intoxicating. More or less that definitive smell of fried fast food. Even better than fries.
Like normal Tiny Tacos, you're not getting a ton of meat inside. Some have less than others.
Ours didn't come with the promised ranch on the side, which is too bad. They could have definitely used some sauce.
Dangerously enjoyable. Would order again.
Bacon Loaded Nacho Tiny Tacos Review
And our thoughts on the loaded version, also served in five lil' bites:
Get out of town with that sauce. Sorry, sauces. There are three. And they're all chef's-kiss-emoji-level great.
A few ended up on the soggy side, but the textural difference is actually kind of nice.
Wait. Where are the bacon crumbles? No, really. It literally has "Bacon Loaded" in the name, but… oh, there's a piece.
Ours had only four bacon crumble pieces in the whole box of 15 tacos. Four. We counted.
Still worth ordering for the delicious sauce dogpile alone. Free advice: Request a fork if you plan to eat them on the go.
Jack in the Box packs many fast food delights—flavor, crunchy fried texture, saucy soggy textures, greasiness, and intoxicating aroma—all into tiny packages with Tiny Tacos. It somehow achieves that to an even greater extent with Nacho Tiny Tacos and Bacon Loaded Nacho Tiny Tacos. Do not underestimate them.