This 4-Patty Monstrosity Is Jack in the Box's Addition to the Chicken Sandwich Insanity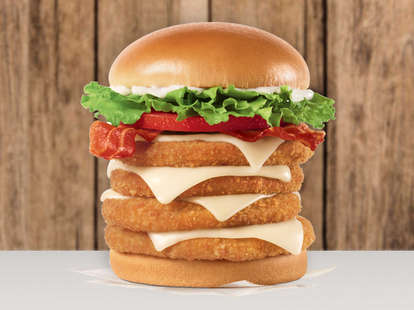 If you've spent any time on the internet lately, you've probably seen something about chicken sandwiches; namely, the meme-filled debate over whether Popeyes' first-ever sandwich is better than Chick-fil-A's original. There have been new chicken sandwich rankings, Twitter feuds, and shortage reports. And now, the grease-fueled mania has seemingly spawned some new chicken sandwich interpretations, like aptly-named Really Big Chicken Sandwich at Jack in the Box.
Have you ever been devouring a chicken sandwich and midway through you've thought, "I could really use an extra chicken patty in this?" Yes? How about two extra patties -- or three? Jack in the Box's new Really Big Chicken Sandwich lets you customize how much poultry you'd like between your buns, with up to four patties on one bun. Four.
The chicken sandwich comes topped with an onion-mayonnaise sauce, lettuce, tomato, and something called "Swiss-style" cheese, which we're guessing is part Swiss and part melty science stuff that's used to make American cheese. The more patties you add to your sandwich, the more cheese you get (just look at the photo above).
Made with 100% white meat chicken, the Really Big Chicken Sandwich comes in a double for $3.99 a combo, a triple for $4.99 a combo, or a quad for $5.99, according to a spokesperson for the chain. Six bucks for a four-patty chicken sandwich with a drink and fries (get curly fries if you know what's good for you) is not a bad deal. Is completely ridiculous, though? Probably.
Like all great fast food inventions, the Really Big Chicken Sandwich is only around for a little while, starting on September 2.
Jack in the Box may not be great at naming new menu items, but they are great and stuffing chicken in sandwiches.
MORE: Does Popeyes actually have the best fast food chicken sandwich?
Sign up here for our daily Thrillist email and subscribe here for our YouTube channel to get your fix of the best in food/drink/fun.
Kat Thompson is a staff writer at Thrillist. Follow her on Twitter @katthompsonn.