Jameson Just Announced a Cold Brew Whiskey With Alcohol and Caffeine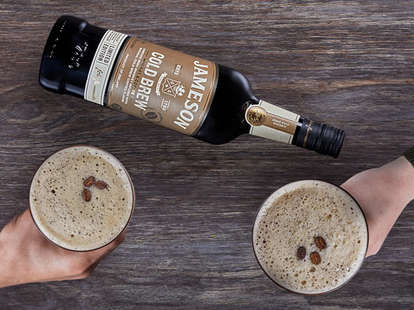 Courtesy of Jameson - Edited
Courtesy of Jameson - Edited
There are few things in the bar that say 'I'm definitely not having a rail drink but let's not get carried away' like Jameson. It's right in the middle there, and you can bank on it being in just about every bar. It's reliable and unchanging.
Or it was. Just two years ago, Jameson began releasing Caskmates variants, which feature whiskey finished in beer barrels. They're generally pretty good. The distillery made something well-crafted, and it didn't feel as trend-chasing as making, say, a cinnamon whiskey and or a green apple whiskey. However, on January 24, the beloved whiskey company is releasing something totally different: Jameson Cold Brew.
The coffee-flavored whiskey is the same Jameson from the familiar green bottle with "natural cold brew flavoring." It's not just flavor, though. Each serving contains the same amount of caffeine as a half-shot of espresso.
With other companies like PBR and Jagermeister dipping toes into coffee-themed alcoholic drinks, this feels a bit like it's chasing a trend, but the company says it's very much a "natural next step" for Jameson. "Because it has everything to do with taste and heritage," the announcement reads. "Jameson is consistently working on developing innovative tastes and experiences to cater to new and existing drinkers. The bold taste of cold brew coffee flavor, paired with the smooth quality that Jameson is known for, creates a carefully crafted liquid that is too delicious to turn down. It's a new spin on the classic pairing of Irish Whiskey and coffee."
Jameson Cold Brew is available for pre-order through ReserveBar.com on January 25 for $37 a bottle and is expected to start hitting store shelves in early February, a representative tells Thrillist. It's being called a limited edition whiskey, so don't expect it hang around forever.
Sign up here for our daily Thrillist email and subscribe here for our YouTube channel to get your fix of the best in food/drink/fun.