Jared Is Definitely Not Coming Back to Subway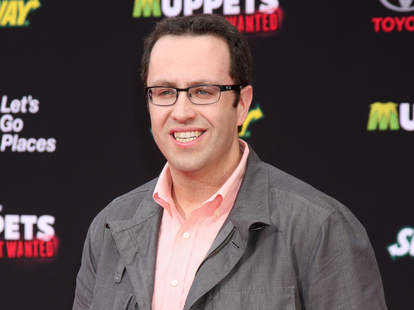 <a href="http://www.shutterstock.com/gallery-564025p1.html?cr=00&amp;pl=edit-00">Helga Esteb</a> / <a href="http://www.shutterstock.com/editorial?cr=00&amp;pl=edit-00">Shutterstock.com</a>
Ex-Subway pitchman Jared Fogle will plead guilty to receiving child pornography and engaging in sexual acts with minors, according to a report by the Associated Press.
Documents released by federal prosecutors on Wednesday show that Fogle -- who until recently was the face of the massive sandwich chain -- faces one count each of "travel to engage in illicit sexual conduct with a minor" and "distribution and receipt of child pornography." Under the plea deal, prosecutors will recommend a sentence of no more than 12 and a half years in prison while Fogle has agreed to ask for a sentence of no less than 5 years in prison, according to the report.
Additionally, the 37-year-old will pay out a total of $1.4 million in restitution to 14 victims who were minors ($100,000 each), register as a sex offender, and get treatment for sexual disorders, according to the report.
Ahead of the announcement, Subway tweeted Tuesday night that Fogle is not coming back:

The deal comes little over a month after authorities raided Fogle's home during a child pornography investigation, upon which he was detained but not arrested. At that time, Subway said it had temporarily suspended its relationship with Fogle.
Tony Merevick is Cities News Editor at Thrillist. Send news tips to news@thrillist.com and follow him on Twitter @tonymerevick.