Hotel Delivers Big Time on Guy's Weird Jeff Goldblum-Related Request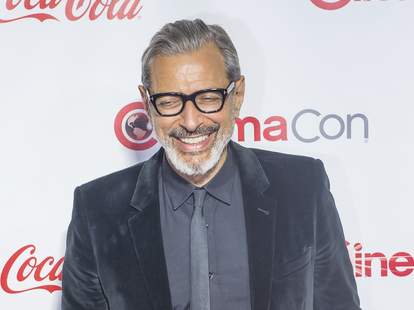 <a href="http://www.shutterstock.com/gallery-80313p1.html?cr=00&pl=edit-00">Kobby Dagan</a> / Shutterstock
When you're in a relationship, sometimes you know each other so well that it leads you doing odd things for each other.
Enter a getaway in Santa Monica, California with Seth Freedland, who made a somewhat joking request of the Huntley Hotel. He requested that the hotel fill their room with Jeff Goldblum photos. "Jeff Goldblum is my girlfriend's celebrity crush," Freedland told The Huffington Post. "Specifically, she's a big fan of Independence Day-era 'heroic Goldblum.' I'm more a Big Chill Goldblum man myself, but you really can't go wrong."
When Freedland and his girlfriend, Amy Marsh, showed up, the hotel had delivered.
The hotel put pictures in the bathroom, next to the phone, just about everywhere there was a flat surface to house Goldblum's shining face. "I think it's fair to describe her as shocked," Freedland said of Marsh's reaction.
"There was a moment of nervousness on my end when we checked in," he continued. "The front desk clerk understandably didn't know this was a surprise and had me sign the little receipt for it and said, 'for the frames.' Amy gave me a quizzical look and I mumbled something about hotels these days and their weird fees."
Kudos to the hotel for making this happen. Though, Freedland may have entered a difficult situation. How can he expect to ever top this? Anyone have Jeff Goldblum's number?
Sign up here for our daily Thrillist email, and get your fix of the best in food/drink/fun.
Dustin Nelson is a News Writer with Thrillist. He holds a Guinness World Record, but has never met the fingernail lady. He's written for Sports Illustrated, Men's Journal, The Rumpus, and other digital wonderlands. Follow him @dlukenelson.