Jerry Seinfeld Tears Up While Getting Coffee With Judd Apatow on 'Comedians in Cars'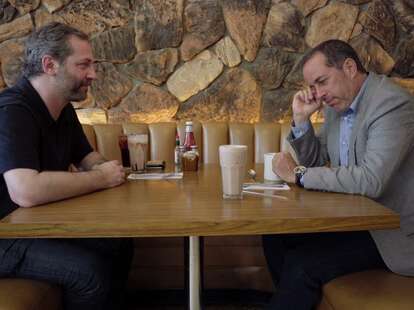 Crackle
Crackle
On the surface, it might not seem like Jerry Seinfeld and Judd Apatow have a lot of overlap as comedians. Seinfeld didn't curse in his sets. Apatow swore repeatedly during an awards show and writes movies where grown men have their pubic hair ripped off. But one thing they did share was the friendship of the late Garry Shandling. That friendship provides a lot of fodder for the newest episode of Comedians in Cars Getting Coffee.
In Apatow's office the pair pour over keepsakes from The Larry Sanders Show and old photos Apatow had collected doing interviews with comedians as a young man, including the time he interviewed Seinfeld himself. Their discussion touches on Shandling, and returns to him while they're getting chocolate milkshakes and hamburgers for breakfast. Seinfeld teared up as they reminisced about their mutual friend who died in March.
The episode also had lighter moments. Apatow tells a story about how he took mushrooms before going to see Don Rickles and Frank Sinatra, and explains why that's exactly like a good hamburger.
The conversation will also please fans of Apatow's cult favorite, Freaks and Geeks. He says he thought it was a perfect show. "I was so happy with how Freak and Geeks came out that in my head I thought my career is basically over," he said. "I accomplished what I wanted to accomplish, and everything else is gravy. And so nothing else matters. I can experiment, I can do anything, because I did what I wanted to do perfectly, once."
Sign up here for our daily Thrillist email, and get your fix of the best in food/drink/fun.
Dustin Nelson is a News Writer with Thrillist. He holds a Guinness World Record, but has never met the fingernail lady. He's written for Sports Illustrated, Men's Journal, The Rumpus, and other digital wonderlands. Follow him @dlukenelson.