YES! YES! YES! Olympic Announcer Loses His Mind Over U.S.'s First Cross-Country Win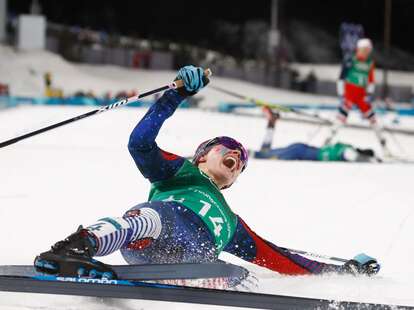 getty images/AFP/ODD ANDERSEN/Contributor
getty images/AFP/ODD ANDERSEN/Contributor
As far as the United States' Winter Olympics medal tally is concerned, cross-country skiing has been a wasteland for a generation of athletes. The Americans hadn't clinched a single medal in the event since 1976, when Bill Koch notched the silver, his dashing '70s sideburns a glaring reminder of the epic drought leading up to the 2018 PyeongChang Games. But the Olympic hardware finally returned on Wednesday, when American Jessica Diggins mounted a resilient comeback against Sweden's Stina Nilsson, edging her out for the gold in a dramatic climb up the course's final hill.
NBC announcer Chad Salmela, a cross country diehard painfully aware of the prolonged medal dearth, was stunned when Diggins crossed the finish line to claim gold in the women's team sprint freestyle event, collapsing in a crumpled heap of exhaustion immediately afterwards.
"Here comes Diggins! Here comes Diggins!," he screamed, his voice going hoarse. Finally, after it became apparent Diggins would clinch an upset victory, the cries became more emphatic: "Yes! Yes! Yes!" he roared.
Diggins was tackled by her teammate, Kikkan Randall, after the event, the duo rolling around in euphoric disbelief.
The medal was a long time coming, especially for Randall, who'd been a part of the US team at every Olympics since the Salt Lake City Games in 2002.
"I got to see in 2013 when we won the world championships... that team gold is worth far more than any individual accolade," the 35-year-old Randall told CBS. "What really kept me going over the last four years was trying to contribute toward a team medal. To do it with Jessie one more time is just amazing."
While Diggins and Randall bask in the long-awaited glory, it's probably time for Salmela to gargle some salt water.
Sam Blum is a News Staff Writer for Thrillist. He's also a martial arts and music nerd who appreciates a fine sandwich and cute dogs. Find his clips in The Guardian, Rolling Stone, The A.V. Club and Esquire. He's on Twitter @Blumnessmonster.