Move Quick, JetBlue Is Having a $29 Ticket Flash Sale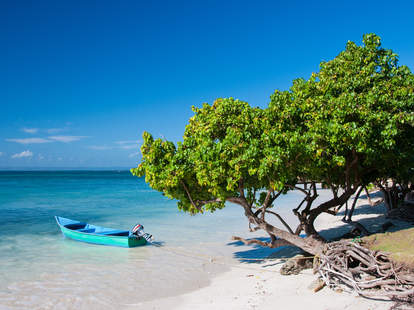 Every day in the muggy August heat is a test of personal endurance. Do you have to sweat it out on the couch in your underwear again tonight? Do these underwear have to be burned at the end of the day? Why doesn't this air conditioner go up to 11 like Nigel Tufnel's amp?
Thankfully, the armpit stain-inducing heat will be a little more bearable when you have a vacation to look forward to. JetBlue has a flash sale going on right now. They're offering $29-$79 flights until 11:59pm eastern on Wednesday, Aug. 17. But pack up your things in a hurry, because all of the flights are for Labor Day weekend (though the actual days vary some).
As ever, a deal like this comes with some restrictions. Most of the flight options are domestic and it's only certain routes that are on sale. But there are really quite a few options, with 121 different routes on sale. Most of the options are to and from the continental United States, but there are a few others mixed in there with options to go to Alaska, Aruba, the Dominican Republic, Puerto Rico and other alluring locales.
This kind of deal never last long and are often moving targets, so get on it and find yourself something better to do Labor Day weekend than sweating it out over the top of a grill in the glaring sun. Yes, a beverage or two helps and those kebabs look fantastique, but sitting on a beach in another city is really going to make your weekend a little more wonderful.
Sign up here for our daily Thrillist email, and get your fix of the best in food/drink/fun.
Dustin Nelson is a News Writer with Thrillist. He holds a Guinness World Record, but has never met the fingernail lady. He's written for Sports Illustrated, Men's Journal, The Rumpus, and other digital wonderlands. Follow him @dlukenelson.