JetBlue Is Finally Adding Cheaper, Basic Economy Tickets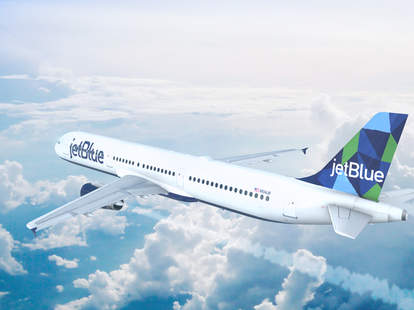 Associating JetBlue with cheap flights is understandable -- it's having sales allthetime, with tickets going for as low as $20 -- but JetBlue is not, in fact, a budget carrier. The airline actually prides itself on the perks it gives it passengers, making it pretty much the opposite of airlines like Frontier and Spirit. Baring those flash fares, however, it's been reluctant to join the budget-fare trend that's come to dominate the industry.
Until now, that is: JetBlue announced that it's finally joining the basic economy game. It'll likely be changing its fare options from Blue, Blue Plus, and Blue Flex to Blue, Blue Save, and Blue More. For the time being, those are just possibilities, but it gives you some idea where the airline is headed. Tickets under these new tiers won't be available until late 2019.
"At JetBlue, we never liked the 'no-frills' approach,'' JetBlue President Joanna Geraghty said in an email to employees that was obtained by Business Insider. "But with these competitors now offering basic economy on many routes we fly, customer behavior suggests our success is at risk if we do not disrupt this market by lowering fares without sacrificing the experience.''
JetBlue is stressing that its options will be different than the basic economy options of competitors like Delta. "We will not make them feel like second-class citizens," Geraghty stressed, adding that they'll still get "the full JetBlue experience." This means that passengers won't have in-flight entertainment privileges revoked or anything, and you'll likely still be allowed a carry-on bag and a personal item at no extra charge. You'll more likely be sacrificing things like a prime boarding position, seating preferences, and cancellation privileges. Late 2019 is a long way off though, so these plans could change.
As long as the $20 sales stick around, though, they can call the fares whatever they want as far as we're concerned.
Sign up here for our daily Thrillist email and subscribe here for our YouTube channel to get your fix of the best in food/drink/fun.