JetBlue Is Working on Becoming the First Carbon-Neutral U.S. Airline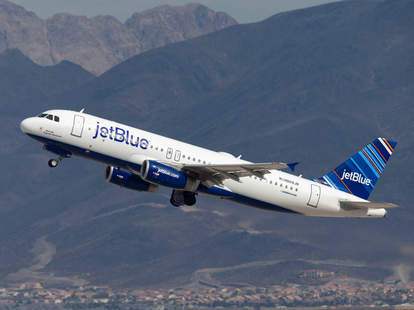 Being a millennial is impossibly hard because I want to travel everywhere, but also not kill our planet -- and, FYI, those are conflicting ambitions. But maybe they won't be some day. JetBlue is taking major steps to become the first carbon neutral airline in the United States, the company announced on Monday.
The fan-favorite carrier revealed plans to begin offsetting carbon dioxide emissions (aka CO2) from jet fuel on domestic flights. The plan, which takes effect in July 2020, will ultimately reduce the airline industry's negative impact on global warming. Per the International Air Transport Association (IATA), 2% of all carbon emissions are caused by aviation and that number is only expected to skyrocket with increased travel in coming years.
"Air travel connects people and cultures, and supports a global economy, yet we must act to limit this critical industry's contributions to climate change," Chief Executive Officer Robin Hayes said in a statement. "We reduce where we can and offset where we can't. By offsetting all of our domestic flying, we're preparing our business for the lower-carbon economy that aviation -- and all sectors -- must plan for."
According to a press release, this will reduce 15-17 billion pounds worth of emissions every single year. The airline's offset projects include forestry conservation, landfill gas capture, and the development of solar and wind farms.
"The airline industry is one of the few industries that has collectively committed to an international emissions reduction goal," Hayes continued. "Air travel brings so much good to the world and JetBlue has always been about making our essential industry better. Carbon offsetting is a bridge to, not a silver bullet for, a lower carbon future. Reducing and mitigating our greenhouse gas emissions is a fundamental aspect of our business plan and our mission to inspire humanity."
It's also not the only positive environmental initiative JetBlue has announced. The airline will begin flying with sustainable aviation fuel even sooner -- starting in mid-2020 from San Francisco International Airport.
h/t Bloomberg
Sign up here for our daily Thrillist email and subscribe here for our YouTube channel to get your fix of the best in food/drink/fun.
Megan Schaltegger is a staff writer at Thrillist. Follow her @MegSchaltegger.