JetBlue's Airport Nap Pods Will Make Flying Suck Less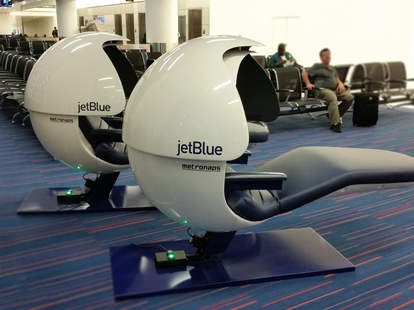 As nice as it would be to not land at your final destination looking and feeling like you haven't slept all night, sleeping on a plane is a rough go. Enter JetBlue's new "napping pods."
According to USA Today, JetBlue has installed MetroNap EnergyPods at JFK's Terminal 5, offering complimentary 20-minute naps to weary travelers in need of an energy boost. Apparently, these specially designed pods offer "an ergonomically perfect, gravity-neutral position that optimizes circulation and encourages a reinvigorating, restful siesta," in addition to playing "soothing music," and providing storage space for your carry-on items. 
After 20 minutes of napping, the pods act as the best alarm clock in the world, waking sleepers with "a combination of lights, music, and vibrations." The same could be said of someone blasting reggaeton outside your bedroom window, but we'll trust the nap pods are less jarring. And if you think a 20-minute nap won't make much difference, consult the Sleep Foundation which says a 20- to 30-minute nap "helps to improve mood, alertness and performance." That mood thing will be especially important when clowns recline their seats and slam them into your knees.
JetBlue is actually the first US airline to offer EnergyPods, and is slated to give out free naps at terminal 5 for a year. Once the year is up, JetBlue and MetroNaps will decide whether to keep the service complimentary or start charging.
JetBlue, if you're listening: please, no more fees. Keep the naps free!
Sign up here for our daily Thrillist email, and get your fix of the best in food/drink/fun.
Kara King is a News Writer at Thrillist and naps are one of her favorite things. Send news tips to news@thrillist.com and follow her at @karatillie.