Flights Just Dropped to $44 in JetBlue's Big 2-Day Flash Sale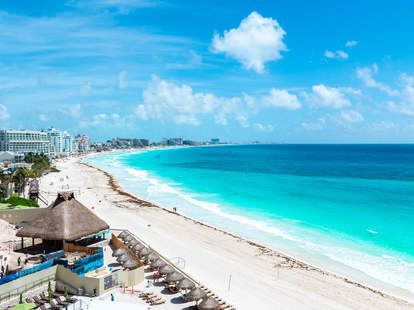 JetBlue dominates the skies with its endless snacks, friendly service, and consistently good deals -- and there's one happening right this second that you can cash in on for a cheap getaway. Yes, the ever-popular airline is throwing another of it's big flash sales on Monday and Tuesday, featuring discounted fares to destinations across the country.
Between October 7 and October 8 you can snag the cheap flights, which start at $44, one-way, and $87, roundtrip. There are flights to hot city destinations like Los Angeles and New York; lowkey jaunts to Portland and Providence; and even locations with tropical flair like Cancun, Nassau, and Turks and Caicos. All of the flights fly sometime between October 15 and January 29, 2020.
Here are some of our favorite domestic trips:
Atlanta to Boston for $79
Cleveland to Fort Lauderdale for $69
Fort Lauderdale to New York for $54
Long Beach, California to San Francisco for $44
New York to Orlando for $54
Orlando to Austin for $94
But that's not all! As mentioned, JetBlue also flies internationally and there are some pretty solid deals to get you off American soil.
Here are our favorite international trips:
Boston to Mexico City, Mexico for $185
Fort Lauderdale to Grand Cayman for $69
New York to Turks and Caicos for $94
Newark to Santo Domingo, Dominican Republic for $144
Orlando to Havana, Cuba for $99
Of course, some exclusions do apply; you aren't going to find Thanksgiving tickets for anywhere near that price, and not all trips will be a mere $44. Specifically, the blackout dates are from November 20 to December 3 and December 17 to January 8. You'll also have to book the tickets before they sell out. 
Regardless, if you're in need of a post-holiday getaway, or an early Halloween trip, then JetBlue has your -- and your wallet's -- back. 
Sign up here for our daily Thrillist email and subscribe here for our YouTube channel to get your fix of the best in food/drink/fun.
Kat Thompson is a staff writer at Thrillist. Follow her on Twitter @katthompsonn.