JetBlue's Huge New Sale Has $44 Flights All Over Right Now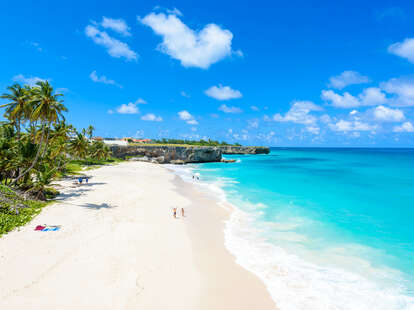 The holidays are nigh, and that means, after all the gift-buying, you have no money left. But don't worry -- your grandma will probably slip you like 50 bucks. Believe it or not, that's going to be enough to treat yourself to a plane ticket, thanks to a new sale from JetBlue. So send her a thank you card, or better yet a postcard from wherever you end up.
Starting Tuesday, JetBlue's "Dash Away Sale" will get you around the country, or out of it, for as low as $34, one way. But you'll have to act fast and book by December 19 at 11:59pm ET. Check out the full JetBlue sale page for the list of the deals, but we'll highlight some of the best below.
You can treat yourself to a trip from Long Beach to San Jose for just $34, Atlanta to Orlando for $44, and New York to Boston for $64. If you'd prefer to get out of the country, you're probably going to have to spend more than what grandma slipped you. But, you can get from Ft. Lauderdale for Cuba for $99, New York to Barbados for $154, and Washington, DC to Nassau, Bahamas for $169. Just make sure to head to the sale page and sort the list by departure city to find the best deal for you.
There are some restrictions though. All this travel takes has to take place between January 8 and March 27, and there are blackout dates between February 14 and February 25. Also, be warned that all of these prices are for JetBlue's Blue fare, which will get you the airline's usual perks like free Wi-Fi and unlimited snacks, but you'll be paying for any checked bags.
Anyway, get booking: Grandma's paying for it after all.
Sign up here for our daily Thrillist email and subscribe here for our YouTube channel to get your fix of the best in food/drink/fun.