JetBlue's Huge Winter Sale Has $44 Flights Right Now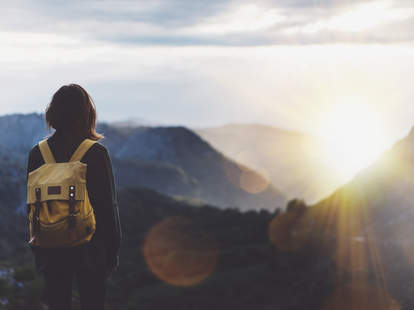 December is basically here, and no amount of denial is going to change that. The only thing you can do is try to make winter suck less, and to do that, we recommend traveling to somewhere that doesn't feel like winter. Luckily, JetBlue is having its Hot Cocoa, Fares Loco sale with cheap flights all through December so you can plot your escape from the cold. 
This unfortunately named sale will get you all around the country for as little as $44, one way. But you have to act fast: These fares will only last until 11:59pm on Friday, November 30 -- now that JetBlue has extended the promotion for another day (it was originally supposed to end on Thursday). It's best not to overthink this. It might be the thing that gets you through winter. 
You can check out the full lineup of flights on the JetBlue sale page. But we can tell you that some highlights include Atlanta to Orlando for $44, Boston to Pittsburgh for $49, and Las Vegas to Long Beach for $59. If you're trying to get out of the States, you can also get from New York to Aruba for $99, New York to Mexico City for $179, Fort Lauderdale to Santa Clara, Cuba for $159, or from Boston to Aruba for $204. Make sure to sort the list by departure city -- they may be a bit more expensive, but there are probably some deals for you. Just make sure you move fast. 
Don't count on this as your way to get home for the holidays though. All of the travel is between January 8 and March 15, with blackout dates from February 16 to February 25. And keep in mind that all of this will be on JetBlue's Blue fare, so you'll get standard perks like free Wi-Fi and unlimited snacks, but you'll have to pay for any checked bags.
Grab the first thing that looks appealing and book two tickets. You can figure out who you're taking later.
Sign up here for our daily Thrillist email and subscribe here for our YouTube channel to get your fix of the best in food/drink/fun.