Guess Which Airport Has the Worst Customs Wait Times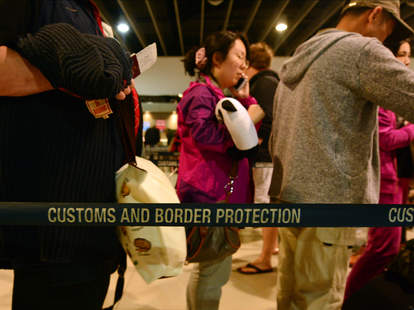 <a href="http://www.shutterstock.com/gallery-668929p1.html?cr=00&amp;pl=edit-00">ChameleonsEye</a> / <a href="http://www.shutterstock.com/editorial?cr=00&amp;pl=edit-00">Shutterstock.com</a>
Unless you've smartly invested in Global Entry, it's hard not to dread dealing with a stupidly long airport customs line after your already exhausting multi-hour international flight -- especially if you're traveling through the nightmare that is JFK International airport. And there's proof: the New York airport sees, by far, the worst customs wait times out of any major international airport in the country, according to a new study. 
Infrastructure research firm Global Gateway Alliance claims that if you're entering the US through JFK, you'll likely face a wait times at customs almost twice as long as other international hubs in cities like Chicago, Dallas, and Atlanta. In particular, the firm found the average customs wait time at JFK to be nearly a half hour, with some of the longest wait times clocking in at close to an hour. JFK was followed by other busy airports like San Francisco International (25 minutes) and Miami International (23 minutes), according to the study. 
In other words, getting through customs at Kennedy is officially as big a pain in the ass as you thought it was. The agonizing wait times are likely the result of an insufficient amount of customs kiosks, the continued use of paper forms, and the need for more staffing, according to a list of recommendations from GGA. The potentially good news, however, is that customs agents are already working to improve the times and hire additional staff, according to a report by the New York Post. But instead of getting your hopes up for even a second, you might as well just pony up for Global Entry and be done with all of it.
Sign up here for our daily Thrillist email, and get your fix of the best in food/drink/fun.
Tony Merevick is Cities News Editor at Thrillist and can only endure so much waiting. Send news tips to news@thrillist.com and follow him on Twitter @tonymerevick.