$25 Gets You a 2-Day, Bourbon-Fueled Father's Day Trip to Jim Beam's Distillery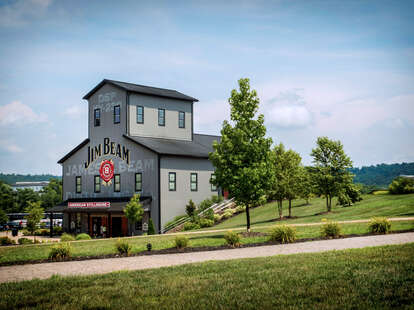 It's easy to get lazy when it comes to Father's Day gifts. Most dads would probably rather get nothing than yet another set of grilling utensils or golf balls. Better yet, they'd probably prefer to just spend some quality time with their kids. Well, actually, they'd probably prefer to spend quality time with their kids while drinking bourbon on an all expenses-paid trip -- something you could actually pull off this year, now that Jim Beam is damn-near giving away a bunch of two-day trips to its Kentucky distillery.
To help facilitate some special father-kid bonding time this Father's Day, the folks at JB are putting together a handful of weekend trip packages to the "birthplace of bourbon." Dads (and whichever lucky guest they choose to bring along) will be treated to a behind-the-scenes tour of the Jim Beam distillery, a meet and great with the brand's master distiller, a round of golf, and a handful of other enticing perks (including plenty of bourbon, of course). And while the trips aren't exactly free, they're going for the extremely reasonable price of $25, or roughly what it'd cost you to buy a bottle of Jim Beam Black.
Specifically, the trip includes roundtrip airfare for two, a two-night stay in downtown Louisville, and even a dinner for two at an unnamed "renowned" local Kentucky restaurant. To try and snag one of the limited number of packages, you'll want to hit the Jim Beam website at 10am ET on Monday, June 4, when they go on sale. They're almost guaranteed to sell out in minutes, so you'll want to have your clicking finger and credit card at the ready. Jim Beam is also reportedly planning to release some "surprise" additional packages before June 17 via its Facebook, Instagram, or Twitter accounts.
While a trip to the distillery will most certainly involve sipping your fair share of bourbon, If you manage to score one of the trips you'll also get a limited edition Jim Beam Black decanter, rocks glass, and luggage tag. Odds are you'll probably walk away with at least a bottle or two, too.
The competition to secure one of these trips as a Father's Day gift will definitely be stiff, but the toughest part very well may be convincing your dad to actually bring you with him.
Sign up here for our daily Thrillist email and subscribe here for our YouTube channel to get your fix of the best in food/drink/fun.