Jimmy Fallon and Ben & Jerry's Just Dropped a New Ice Cream Flavor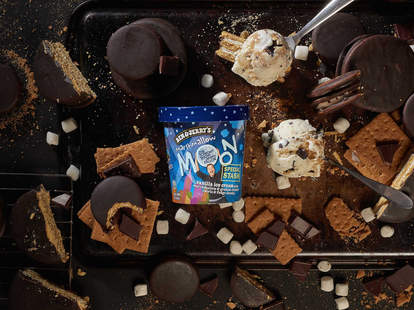 Courtesy of Ben & Jerry's
Sure, it's only been a few weeks since Ben & Jerry's unleashed an intoxicating swirl of caramel, marshmallow, and chocolate with its new One Sweet World flavor, but the company's maniacal flavor gurus have concocted yet another new ice cream flavor -- this time, with the help of Jimmy Fallon. The flavor is called Marshmallow Moon and it's the first of Ben & Jerry's extremely limited-edition "special stash" flavor line.
Fallon introduced the special dessert on Wednesday night's episode of the The Tonight Show, and said its name makes perfect sense "because the Tonight Show logo has a moon, and I have a body like a marshmallow." The combination of flavors and mixings forms what's basically a frozen s'more: vanilla ice cream with marshmallow and graham cracker swirls and fudge flakes. But because the ice cream is so limited, you can only get your hands on it through Ben & Jerry's online store or at its scoop shops across the country, starting on November 2, according to a press release.
Ben & Jerry's said it first developed Marshmallow Moon two years ago and almost released it instead of Fallon's ever-popular permanent flavor, Tonight Dough, which is among the company's top 10 most popular flavors. Just like that of Tonight Dough, sales of Marshmallow Moon will benefit the SeriousFun Children's Network. The charity provides spectacular and fun camp experiences to children living with serious illnesses, per the press release.
All said, you can feel slightly less guilty about polishing off of a pint of the stuff by yourself. You'll be doing it for the kids. 
Sign up here for our daily Thrillist email and subscribe here for our YouTube channel to get your fix of the best in food/drink/fun.
 
Tony Merevick is Senior News Editor at Thrillist and could use some more ice cream in his life. Send news tips to news@thrillist.com and follow him on Twitter @tonymerevick.