Jimmy John's Is Offering Fresh Bread Delivery Now That Stores Are Selling Out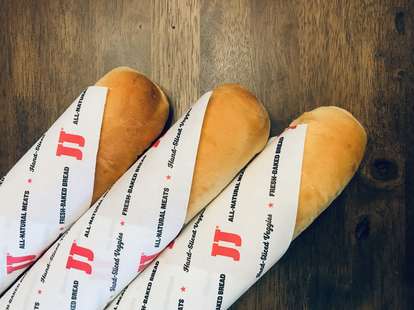 With grocery stores sold out of bread and other staples, baking sourdough bread has quickly become the itsocial distancing pastime. You have to respect the hustle, but you may not have the patience to bake a loaf yourself. Thankfully, you can order fresh-baked bread straight to your door in stead.
Jimmy John's announced on Thursday that it's responding to grocery store bread shortages by launching what's dubbed Freak Fresh Bread On Demand, a new delivery offering aimed at satisfying your need for comfort carbs. The sandwich slinger said 16in loaves of its signature French bread are now available via delivery, the drive-thru, and curbside pickup. The breads are $2 a pop, and if you're ordering it for delivery, there's a $3 minimum, though both prices may vary based on location, according to a spokesperson.
"Jimmy John's wants to help our neighbors across the country by making it easier to get daily necessities like freshly-baked bread," Chief Marketing Officer Darin Dugan said in a statement provided to Thrillist. "Available across the country immediately, we will be offering Freaky Fresh Bread on Demand: freshly baked bread delivered to our guests any way they want it."
You can order directly through Jimmy John's website. And while there isn't currently a limit on number of loaves per order, the company is urging guests to only purchase what they need for their family as to preserve supplies.
Jimmy John's is also offering a no-contact delivery option when you order online or via its mobile app. Just select the "leave delivery at door" option when ordering or provide special instructions. The company has also mandated a number of other guidelines due to coronavirus concerns. On March 16, JJ's announced the following updates:
Drive-thru, takeout, and curbside pickups only
More frequent cleaning of high-touch surfaces like doors, bathrooms, and ordering areas
Increased the accessibility of hand-sanitizer for guests
Reinforced strict hygiene standards for team members, with increased hand washing. Employees are encouraged to stay home if they are feeling sick
All said, cheers to riding out the storm with a steady supply of bread.
Sign up here for our daily Thrillist email and subscribe here for our YouTube channel to get your fix of the best in food/drink/fun.
Megan Schaltegger is a staff writer at Thrillist.