FDA Says Jimmy John's Served Food Linked to Salmonella, E. coli Outbreaks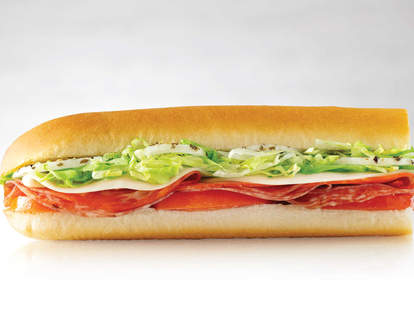 Jimmy John's, the popular purveyor of "freaky fast" sandwiches, was just slapped with a warning letter from the Food & Drug Administration (FDA), accusing the chain of serving tainted ingredients linked to food-borne illness outbreaks. The company, according to federal officials, had better get its act together -- and freaky fast. 
The February 21 letter alleges the sandwich chain engaged in a pattern of using "adulterated" fresh produce that has been linked to five outbreaks of salmonella or E. coli illness outbreaks in recent years; specifically, clover sprouts and cucumbers. The FDA has given Jimmy John's 15 days to respond to its warning and detail new measures it will take to ensure all of the produce it serves is safe moving forward, or face "enforcement action." 
"Jimmy John's restaurants have been implicated in multiple outbreaks that have spanned the past seven years and impacted consumers in no fewer than 17 states," FDA Deputy Commissioner Frank Yiannas said in a press release. "Jimmy John's has not demonstrated implementation of long-term sustainable corrections to its supply chain to assure the safety of ingredients used in its products."
James North, president of Jimmy John's, said the chain has already taken action in response to the FDA letter.
"Food safety is our top priority," North said in a statement provided to Thrillist. "Sprouts present particular challenges, given our unwavering commitment to world-class food safety standards. Therefore, we made the decision to permanently remove sprouts from all restaurants and acted swiftly to do so. As of Monday, February 24, sprouts are no longer being served in any restaurant, and they will remain out of our restaurants permanently."
Both E. coli and salmonella may cause serious illness. Symptoms include diarrhea, bloody stools, fever, chills, and in severe cases for those with particularly weak immune systems, kidney damage and death.
The FDA warning said Inspire Brands, Jimmy John's parent company, did destroy recalled sprouts on one occasion and had Iowa-based restaurants, where the contamination began, undergo sanitation. "[However], neither you nor your parent company proposed any corrective actions to prevent these, or other Jimmy John's restaurants, from receiving adulterated produce, specifically sprouts," the letter states.
The letter goes on to detail each of the five outbreaks in which Jimmy John's ingredients were linked to food-borne illnesses, ultimately saying, that "Taken together, these outbreaks, which spanned over the past seven years and impacted no fewer than seventeen states demonstrate the corporate-wide supplier control mechanisms you have in place for receiving fresh produce are inadequate."
Sign up here for our daily Thrillist email and subscribe here for our YouTube channel to get your fix of the best in food/drink/fun.
Kat Thompson is a staff writer at Thrillist. Follow her on Twitter @katthompsonn.